Deep Brain Stimulation Helpful in Some Patients With MS Tremor
There are few treatment options for patients with MS-related tremor. For some, a radical surgery called deep brain stimulation helps immensely.
Shortly after she was diagnosed with relapsing-remitting multiple sclerosis in 2001, Angela Wilde-Lee's right arm developed a violent, uncontrollable tremor. It shook at all times, making it impossible for her to write or eat with her right arm. She was 26.
"It was like losing a limb completely," Wilde-Lee, now 38, said in an interview with MSDF.
Wilde-Lee struggled to control her arm for 5 years, but nothing worked. Rather than suppress her tremor, she learned to work around it. She trained herself to do everything with her nondominant left hand and would often sit on her right hand to keep her arm from flailing about. Still, Wilde-Lee was eager for a solution.
In 2007, she found relief under the knife. Wilde-Lee underwent a brain surgery called deep brain stimulation (DBS). While she was awake, neurosurgeon Kelly Foote, M.D., of the Department for Movement Disorders and Neurorestoration at the University of Florida, pierced two electronic stimulators deep into her brain, reaching the ventralis intermedius nucleus (VIM) and the ventralis oralis nucleus (VO) of her thalamus. He turned on the stimulators, made the necessary adjustments, and instantly minimized her tremor. Over the next several months, as Wilde-Lee was subject to further testing, Foote and his colleagues dialed in the best settings on her stimulator and extinguished the tremor completely.
Seven years later, Wilde-Lee's tremor remains barely detectible. She said the surgery improved not only her arm but also her life.
Unfortunately, not every patient has an outcome as successful as Wilde-Lee's. Most patients who undergo the surgery can only expect a 30% to 50% reduction in their tremor. Some barely respond at all. Due to the placement of the stimulator, some patients also experience slurring of speech and increased clumsiness. Although there's no evidence that DBS promotes disease progression, like any other surgery it carries risks. Because of those risks and the difficulty in reducing tremor, doctors are narrowing the standards for what qualifies a patient to be a good candidate for the surgery.
Tremor in multiple sclerosis
Tremor affects between 25% and 32% of MS patients, and is the primary cause of disability for roughly 6% of them (Torres et al., 2010; Hosseini et al., 2012; Zakaria et al., 2013). Tremor is often accompanied by other movement disorders like ataxia (clumsiness) and dysmetria (lack of coordination). Though researchers believe the neuronal dysfunction in tremor originates in the cerebellum, no one fully understands its pathophysiology (Wishart et al., 2003; Yap et al., 2007; Torres et al., 2010; Hosseini et al., 2012; Zakaria et al., 2013).
Tremor in MS differs from tremors in other conditions, like essential tremor or Parkinson's disease. Essential tremor is a movement disorder consisting only of tremor in the affected limb; no other body parts are affected. It's characterized as an intention tremor: The shaking in the affected limb worsens when the patient tries to do something with that limb, such as picking something up. Conversely, one of the hallmarks of tremor in Parkinson's is the lessening or cessation of shaking when the patient does something with his or her hands.
Tremor in MS has both qualities: The limb trembles whether or not the patient is trying to use it (Wishart et al., 2003; Zakaria et al., 2013). Neurologists and neurosurgeons believe that this is a reflection of the complex pathology of tremor in MS and may partially explain why pharmacological interventions yield such poor results. Current medical treatments include isoniazid, ondansetron, glutethimide, carbamazepine, and clonazepam, according to Yap et al. (2007).
Tremor can severely diminish a patient's quality of life. The constant shaking can be embarrassing and prevent him or her from writing, eating, and performing other simple tasks. Sometimes the tremor can be so violent that patients hurt themselves when the flailing limb collides with an object like a table or a bookshelf.
"People are desperate," Jeff Bronstein, M.D., Ph.D., a neurologist on the DBS team at the University of California, Los Angeles, told MSDF.
Deep brain stimulation
DBS involves placing an electrode (more commonly referred to as a lead) into a specific location in the brain of a patient and stimulating the surrounding neurons with regular pulses of electrical current. The stimulator is attached to a cord that runs under the scalp to a pulse generator placed in the chest. The current can be adjusted to the patient's needs by a remote control.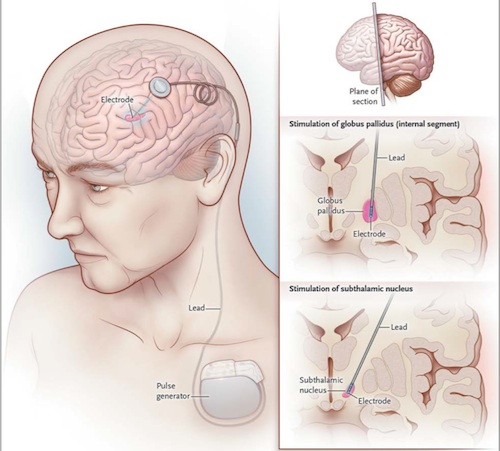 "Deep brain stimulation is analogous to the cardiac pacemaker," Nader Pouratian, M.D., a neurosurgeon on the DBS team at UCLA, told MSDF.
But no one is sure exactly how DBS reduces tremor. "There are a lot of theories about what is actually modulated with this stimulation, but in general what we think about is stimulation helps restore a more normal pattern of activity within the brain," Pouratian said.
Foote describes it another way. "There's a group of neurons in that motor network that, for whatever reason, have decided to fire all together in synchrony, and they mess up your movements," he said. "DBS essentially covers up that signal with white noise and allows the rest of the network to do its job."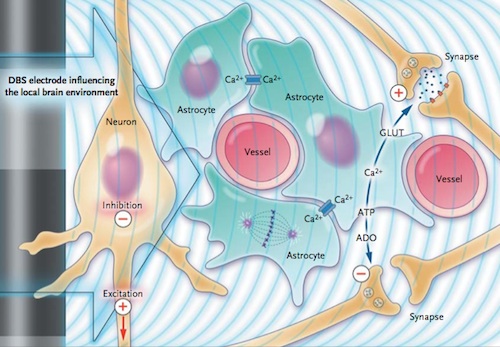 But it's not as though surgeons are merely sticking electrodes in people's brains, turning them on, and seeing what happens. The methodology for DBS evolved from another neurosurgery called thalamotomy in which surgeons would remove parts of the thalamus. Thalamotomy was originally developed around 1950 and was used to treat all kinds of tremor. The procedure, of course, is an all-or-nothing treatment; the parts of the brain removed cannot be restored.
In the thalamotomy procedure, the surgeon stimulates the area to be lesioned before it's ablated, and it's thought that this process led to the development of DBS (Sironi, 2011).
The FDA approved DBS for essential tremor and tremor related to Parkinson's disease in 1997. Other conditions are approved for humanitarian treatment, but so far MS-related tremor is not officially approved (Miocinovic et al., 2013). That said, surgeons can still get approval to use the device for MS-related tremor on a case-by-case or clinical trial basis. But the bureaucratic barriers for clinical trials are exceedingly high, according to Foote and his colleague at the University of Florida, neurologist Michael Okun, M.D. (Kelly et al., 2014).
Procedure and outcomes
At present, there's no agreement on a uniform way to treat MS patients with DBS.
"Every patient is going to be different, and because MS affects every patient in a different way, coming up with a uniform treatment that will help everyone in an equal way is going to be challenging," Pouratian said.
Before the surgery, a team of neurologists, radiologists, and neurosurgeons will thoroughly examine MRI scans. Like cartographers, they determine the precise geometry of the patient's brain to optimize the lead's path of insertion to the target area for stimulation. Then in the operating room, the patient is kept awake so that the surgeons can test the equipment to be sure they placed it properly to stimulate the correct nucleus without complicating coordination or cognition.
For MS-related tremor, generally surgeons will place one lead in one hemisphere of the brain, usually targeting the VIM of the thalamus. Targeting the VIM helps restore functionality in the kinetic aspects of MS-related tremor.
But the results are often disappointing compared to the dramatic improvements seen in patients with essential tremor or Parkinson's disease treated with DBS. The majority of MS patients can expect to see anywhere from a 30% to 50% reduction in the tremor, as measured by the Tremor Rating Scale (Torres et al., 2010; Hosseini et al., 2012; Zakaria et al., 2013), far less than the typical Parkinson's patient.
Additionally, the current from the lead can "bleed" over into other areas of the thalamus, causing problems with slurring of speech or walking ability. Foote says these complications are generally easily reversible by simply toning down the electrical current, but then the tremor often gets worse.
"In some patients, there's a compromise that has to be made," Foote said.
The surgery can sometimes cause irreversible declines in coordination and cognition. These instances are relatively rare, specialists agree, but in a patient with MS it factors considerably into the risk/benefit analysis. If a patient has tremor along with many other movement complications, reducing the tremor may not ultimately reduce the patient's overall disability.
"We expect to have an adverse effect on people. It would be completely counterintuitive to expect that you could take something and stab it through people's brain and not expect at least some adverse effect," Foote said.
Foote described another patient he recently operated on who, before the surgery, was mostly wheelchair bound but could walk a few steps. After the surgery, he said, she was unable to walk at all. Foote said that when he asked the patient if she would do the surgery again given the chance, she was equivocal.
Interestingly, the surgery apparently does not exacerbate or progress the disease, according to Pouratian. There was also some debate about whether people would become tolerant of the stimulation. But Okun and Foote argue that the apparent tolerance is actually a worsening of the disease (Favilla et al., 2012). When asked about the potential for tolerance to stimulation, Foote was quick to assert that DBS is not a cure for tremor or any aspect of multiple sclerosis. So it's not surprising, he said, that eventually the tremor would worsen and the DBS would lose effectiveness. In those cases, he says, tremor can often be corrected simply by increasing the current.
DBS also comes with the more typical risks of surgery, such as infection and hemorrhage. Those risks are one or two percentage points higher than those for most surgeries, since the procedure involves leaving hardware in the body.
All of these complications are leading surgery teams to narrow the criteria determining who makes a good candidate for surgery.
"We try to choose patients that have predominantly tremor without ataxia [lack of coordination in the trunk]," Okun said. "It's a very careful selection process that includes seven different interdisciplinary specialists."
The future of DBS
Foote recently completed a clinical trial testing the safety and efficacy of a new protocol for treating tremor in MS patients. Instead of putting a single lead in the VIM, Foote advocates for placing two DBS leads: one in the VIM and the other in the VO.
His rationale is that MS tremor is complicated and has aspects of tremor in Parkinson's disease as well as essential tremor. The VIM is generally targeted in treatment for essential tremor, and the VO is the target for Parkinson's disease.
Foote and his colleagues implanted two DBS leads into the brains of 13 patients, 12 of whom had multiple sclerosis. In advance of the trial, the investigators agreed to define the treatment as a success if at least 70% of patients achieved at least a 30% reduction in their tremor. Among the 10 MS patients who made it to the end of the study, only six experienced a reduction in tremor greater than or equal to 30%.
Foote is still pleased with these results, even though they fell short of his goal. He and Okun have a beguiling optimism about DBS. In interviews and presentations, the duo has a playful dynamic usually absent from most scientific presentations. They tout the many benefits the surgery has brought to their patients, as well as how much they've learned from all the patients they have treated to date. Despite their confidence, they recognize that DBS is not a cure for the underlying disease, and that there are limits to what they can achieve.
While some would argue that any improvement is a meaningful improvement, others have more sobering opinions.
"I think it depends on whether you're glass-half-empty or glass-half-full," Bronstein said. He explained that while a 30% to 50% reduction in tremor might sound good, it doesn't always represent a restoration of function. "[MS patients] still have problems with coordination. It does not usually improve functionality. So you still can't write, you can't drink from a cup."
On the other hand, Bronstein said, the tremor reduction can help caregivers who aid patients in dressing and bathing. Reducing a tremor to the point at which a patient won't risk injury from a violently shaking appendage is always beneficial as well.
It's unclear whether Foote's two-lead methodology will catch on with other DBS teams. As of now, DBS surgeries in MS patients are relatively rare. Pouratian said he operates on roughly one patient with MS per year. Foote said that of the over 1,000 DBS surgeries he's performed, only 20 of them have been on MS patients.
For the patients who have received the treatment, though, the improvements are meaningful. In an email, Foote said that even the so-called nonresponders in his clinical trials—the patients who achieved somewhat less than a 30% reduction in tremor—were still happy with the results and planned on coming back for their battery replacement when needed.
For Wilde-Lee, the surgery essentially returned her life to normal. In the years since the surgery, she got married, had a child, and settled in Las Vegas, Nevada.
"Before, I was pretty much just going to the doctor all the time. I was doing every kind of physical therapy, occupational therapy, doing everything imaginable. Now I just go and see the neurologist every 6 months," Wilde-Lee said.
Key open questions
What is the best way to treat patients with MS-related tremor?
How should surgeons define the inclusion and exclusion criteria for patients wishing to undergo DBS?
Are there any other MS symptoms that could be treated with DBS?
What qualifies as meaningful improvement for tremor?
Disclosures and sources of funding  
Michael Okun receives no honoraria from any industry sources and claimed no conflicts of interest. Nader Pouratian claimed no conflicts of interest and receives funding from the NIH (NIBIB) and from Casa Colina Rehabilitation Foundation. Foote collaborated on his clinical trial from the U.S. National Institute of Neurological Disorders and Stroke (NINDS) and Medtronic, a medical device company that manufactures DBS equipment. Bronstein claimed no conflicts of interest.
DOI:
doi/10.7493/msdf.10.13214.1