Decoding Brain Disease
Computer analyses extract new insights from MS patient data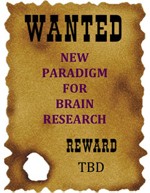 Since he was diagnosed with multiple sclerosis (MS) in 2007, Curtis Schreiner, a three-time U.S. Olympian in the biathlon, has pushed back against the encroaching physical limits. This winter, the former world-class athlete skied shortened 3-kilometer (2-mile) workouts. When cutting firewood on his rural upstate New York property, he operates a chain saw for only 1 hour. He cannot scramble up the climbing wall with his kids on the side of a house he built himself. His last attempt to hike a local mountain that he used to run up in less than 20 minutes ended in a slow survival shuffle back down.
Medical science can tell Schreiner surprisingly little about his future, despite more than a century of studies investigating postmortem brain tissue samples, mouse models, and molecular mechanisms, as well as clinical trials of dozens of therapies on thousands of patients. He deals with the uncertainties of his condition by staying as healthy as possible, taking drugs that he hopes will help, and comparing symptoms and medication side effects with other MSers on the online support network PatientsLikeMe.
Schreiner was one of 20 speakers at an April 4, 2014, meeting in Cambridge, Massachusetts, called "Bridging the brain disease knowledge gap through computational modeling and systems biology." The wide-ranging meeting covered many issues and some early steps in deploying high-level computing power to better understand, predict, diagnose, and treat MS and other brain diseases. Participants addressed topics such as industry investment, integrated translational knowledge, big data as a shared resource, the systems biology approach, and patient networks.
Hosted by Orion Bionetworks, a Cambridge, Massachusetts-based nonprofit collaborative research organization, the meeting involved leaders from drug companies, academia, health care providers, the federal government, patient networks, and information technology and systems modeling companies. Participants in the first disease-modeling initiative, which is in MS, reported progress at the 1-year milestone. Speakers also addressed other disease areas, such as Alzheimer's, Parkinson's, amyotrophic lateral sclerosis, and psychiatric disorders.
Abandoned by industry
In aggregate, neurological and psychiatric disorders account for the largest disease burden worldwide, said Steven Hyman, M.D., director of the Stanley Center for Psychiatric Research at the Broad Institute of MIT and Harvard, where the meeting was held. Disability plays a major role in global brain disease dominance, including conditions that strike early in life, such as MS and neuropsychiatric disorders, and the rising number of older people with dementia.
"You would think the pharmaceutical industry would be licking their lips and coming full throttle at the disorders," Hyman said. But "since 2010, most companies have been disinvesting in brain disorders." Brain disease is a difficult area because of the complexity of cell types; inaccessibility of the human brain for study; and the lack of plausible and validated drug targets, he said. Other problems include irreproducible results and animal studies that don't translate to human disease.
Hyman and others enumerated many reasons that one solution to these difficulties may involve high-quality data paired with advanced computer modeling. Simulations can transform human data into an in silica model system that may overcome the inability of reductionist science to cure brain diseases.
Many of the participants view these patient-level data and the tools to analyze them as a necessary scientific and regulatory baseline upon which individual proprietary efforts can be built. As a shared resource, data and modeling platforms can increase the incentive and reduce the risk for any one company by identifying biomarkers, stratifying diseases, building confidence in therapeutic targets, and simulating clinical trials.
"We don't have to own everything," said Husseini Manji, M.D., global therapeutic head for neuroscience at Janssen Research and Development. "We need to advance science so everyone can take advantage of it."
"Drowning in information but starved for knowledge"
Some answers may be lurking in existing data, waiting for someone to make the software connections and ask the right questions. "We're drowning in information but starved for knowledge," said Orion founder and CEO Magali Haas, M.D., Ph.D.
New data will be required for the most ambitious goals of modeling and predicting brain disease the way meteorologists can forecast storms. Several speakers called for setting up studies that collect extensive and reliable longitudinal data from big groups of people, akin to the Framingham Heart Study—only bigger. Funding would likely need to come from private companies or philanthropic sources.
"You will need large amounts of data in the beginning," said Zaven Khachaturian, Ph.D., president of the Campaign to Prevent Alzheimer's Disease by 2020 and founder of the extramural research programs on Neurobiology of Aging and Alzheimer supported by the National Institutes of Health.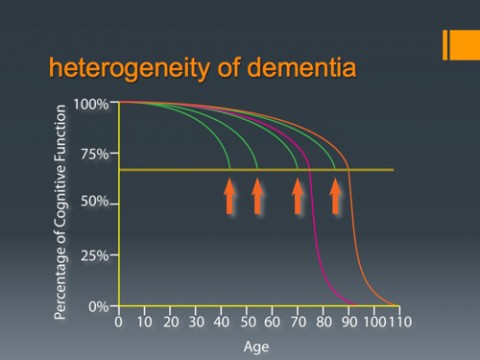 A systems modeling approach may result in new treatment paradigms, Khachaturian said. Traditionally, therapies either try to replace a missing molecule or to correct a single aberration. Brain diseases may be the result of the failure of multiple factors. Probing the neurobiology at a systems level may elicit unexpected relationships that can be perturbed to reset the system to a more functional state, much the way analyses of trader behavior can predict the behavior of the entire stock market. A challenge for modeling will come in the digital translation from one level of reduction to another, such as moving between molecular networks and functional disability.
Disease models may help explain how drugs that work actually have a therapeutic effect, likely through some combination of intended target and off-target mechanisms, said Keith Elliston, Ph.D., consulting scientific director for Orion. With the anticipated ability to track and incorporate more data from patient networks, others expect to find new ways of defining brain disease, as well as some common disease mechanisms underlying different conditions.
One major preparatory step is to find and understand existing data. Maryann Martone, Ph.D., described the Neuroscience Information Framework, a site she helped create that inventories and provides a search tool for hundreds of different kinds of data sets accessible on the Internet. The products of research are not just the scientific papers but also the data on which they rest. "People are grappling with the fact that machines provide access to a whole bunch of stuff," she said, and that resulting data needs to be prepared for more widespread use on computers.
Early results in MS
Orion's pilot project to understand the complex human experience of MS with powerful computers is at the early stage of assessing individual data sets. MS was chosen because it is one of the few brain diseases with data from long-term observational studies in people. "We need to take advantage of the data that is already out there," Haas told MSDF after the meeting.
The team started with an MS natural history study at Brigham and Women's Hospital in Boston that has followed more than 2000 patients for more than 5 years. Called the Comprehensive Longitudinal Investigation of Multiple Sclerosis at Brigham and Women's Hospital, the study collects multiple data points at patient visits, such as the neurological exam, blood samples, and MRIs. To build a model from which they could infer causal relationships, the key data had to be captured from every patient at every time point, which is a challenge inherent to traditional cohort studies. Digital experts call the resulting data "coherent," a good thing. However, data from only 300 patients were complete enough for the analysis, with DNA, imaging, and clinical end points at each time point. Only 100 patients also had matching RNA data.
Orion partner GNS Healthcare used 100-year-old math and high-performance computers to extract the relationships between hundreds of thousands of variables. They found 57 molecular pathways associated with clinical endpoints, such as walking ability. Only three of the pathways had previously been associated with MS. The new MS pathways have previously been associated with neurogenesis, neurotransmission, neurodegeneration, and synaptic plasticity, Haas told MSDF.
Orion is raising money to expand the modeling study. The team wants to replicate the findings in another data set, conduct further testing in mouse models, capture more biological variables, such as the intestinal microbiome, and give wearable activity trackers and biosensors to patients to capture more details about how patients are able to get around. Ultimately, they want to sort out what is causal and what is reactive in the circuitry of the system, said Iya Khalil, Ph.D., executive vice president and co-founder of GNS Healthcare.
Patient reports tell a story
In another part of the pilot program, Orion funded PatientsLikeMe (PLM) to analyze their MS community, which now numbers more than 36,000. "Our MS community is the largest in the world," said Jamie Heywood, co-founder and chair of PLM. People volunteer information about their symptoms and medication effects and fill out surveys about their disabilities. "We have more data on the impact of Provigil in MS than was used to approve the drug," Heywood said. Provigil (modafinil) is approved by the U.S. Food and Drug Administration to reduce excessive sleepiness in people with narcolepsy, obstructive sleep apnea, and shift-work disorder, but is also prescribed off-label to treat some types of fatigue in MS.
PLM has developed and tested a patient-reported outcome measure called the MS Rating Scale. "Here's a disease that changes on a daily basis," Haas said. "Some people wake up and feel great. By the end of the day they feel sick. Some have the opposite experience. Or they can go weeks without feeling anything wrong, and then they're out for a week. That kind of waxing and waning tells you what's relevant about the disease. It's an incredibly rich way to tackle the phenomics," she said, referring to disease symptoms. "It's more powerful than observational clinical trials that only capture data on a monthly or yearly basis."
The analysis funded by Orion probed the worsening dysfunction in MS over time. Instead of one symptom, such as a weak right leg, getting worse over time, the prevailing pattern was increasing disability from additional symptoms, such as also developing fuzzy vision and weakness in the right arm.
Biobanks with a new social contract
A third analysis is underway with the tissue repository at the Accelerated Cure Project (the nonprofit home of MSDF). Blood samples from more than 3200 people with MS, people with other demyelinating diseases, and controls are collected in the voluntary tissue repository, along with 50 pages of demographic, environmental, and clinical data for each participant. ACP provides the samples and information to researchers with the stipulation that they will return their data results with the anonymized identifiers, enriching the available data with every study.
"ACP is a way of building a biobank with a new social contract," Heywood said. "If you take the samples, you've got to give back the data."
The goal of the ACP analysis is to mine the rich repository database for clusters of gene expression and symptoms patterns that may define subgroups of disease, said Hollie Schmidt, ACP vice president of scientific operations. The results are expected in several months.
All the models are subject to a 1-year embargo before they are made publicly available, as an incentive to Orion collaborators, Haas said.
"There are over 600 disorders of the brain, but there is not one single cure," Haas told MSDF. She and her collaborators look to cancer biology as a new paradigm for brain disease. Cancers are being redefined and treated by their molecular pathways. She and others believe they will find common mechanisms underlying different brain disorders, as well as new ways to reclassify and treat brain diseases now clustered under one diagnosis.
The archive of live-streamed meeting is available at the Orion YouTube channel (7 hours).
Key open questions
What are the underlying mechanisms that drive relapse in MS? Does the microbiome interact with hormonal and inflammatory pathways in MS to play a role in relapse or disease progression?
What are the underlying mechanisms and pathways driving disease progression and neurodegeneration in MS?
Can researchers understand MS comorbidities, such as fatigue, mood, and sleep, in the context of the models?
Disclosures and sources of funding
Orion is funded by Janssen Pharmaceuticals, Thomson Reuters, PatientsLikeMe, GNS Healthcare, and private donors. Keith Elliston is CEO of the tranSMART Foundation, a nonprofit, open-source foundation; consultant to both Orion and GNS Healthcare; and co-founder of PSertain Technologies, a cancer diagnostic technology company, and Virtual Rx, a virtual pharma startup company. Magali Haas, Hollie Schmidt, and Zaven Khachaturian report no conflicts of interest. Accelerated Cure Project is the publisher of MSDF.
DOI:
doi/10.7493/msdf.10.10693.1