Lower Risk of MS in People With HIV
A large study of hospital records in England finds a potentially protective association now being tested in a small clinical trial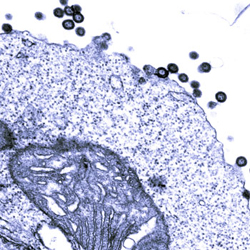 A controversial idea about how ancient inherited viruses embedded in people's genes may cause multiple sclerosis has new epidemiological support. A large study of hospital care records found that people newly diagnosed with HIV had a 62% lower risk of developing MS than uninfected people of the same age, gender, region, and socioeconomic status. The relative risk dropped to 75% less when the researchers counted only cases of MS that developed a year or more later (Gold et al., 2014).
If other studies confirm the findings, the relative positive effect of HIV, or its treatment, appears bigger than other studied factors that increase the risk, such as smoking, individual gene markers, vitamin D deficiency, and other purported viral causes, the authors write.
No one knows whether the possible protective effect comes from the HIV infection itself, the treatment, or a combination of the two. The authors and others think the key ingredient may be antiretroviral therapy (ART). HIV drugs may target similar noninfectious residual viral genes that may become activated to cause MS and other autoimmune diseases. The ancient dormant retroviruses make up an estimated 8% of the human genome. They may be activated by infectious viruses, such as Epstein-Barr virus and other environmental factors associated with MS.
"This adds to our hypothesis that ART may be preventing [people with HIV] from getting MS or coincidentally treating them if they had [undiagnosed] MS," said lead author Julian Gold, M.D., an infectious disease specialist and neurologist at Prince of Wales Hospital in Sydney, Australia, in an interview with MSDF.
The study was published online August 4 in the Journal of Neurology, Neurosurgery & Psychiatry. The journal produced a podcast interview with Gold here. (Gold also told most of the story at the European Committee for Treatment and Research in Multiple Sclerosis meeting in Copenhagen, Denmark, October 2013, in a session MSDF covered live via Twitter.)
In a more direct test, Gold and his colleagues in London are conducting a short, small phase 2 clinical trial evaluating the effects of the antiretroviral drug raltegravir (Isentress, Merck), an integrase inhibitor that blocks retroviral replication. The trial observes 24 people with relapsing-remitting MS (RRMS) for 3 months for baseline MRI readings and blood markers and then gives the drug daily for 3 months. The last enrolled study participant will complete the trial in early January 2015, with the earliest results expected in late spring, reported principal investigator Gavin Giovannoni, MBBCh, Ph.D., a neurologist at Barts and the London School of Medicine and Dentistry in London, on his blog.
"This is a fascinating paper," said Bjørn Nexø, Ph.D., an associate professor of biomedicine at Aarhus University in Denmark, who conducted a similar analysis with the Danish National Registry of Patients that found a similar trend but was too small to reach statistical significance (Nexø et al., 2013). "The big issue is, will HIV medicine prevent MS to a reasonable degree? The ongoing study in London is a start. If this one doesn't work, we'll have to try other HIV drugs."
"This is another piece of the puzzle" implicating human endogenous retroviruses (HERVs), said French neurovirologist Hervé Perron, Ph.D., who first discovered retrovirus particles and reverse transcriptase activity in cells from MS patients 25 years ago (Nissen et al., 2013). Perron co-founded the Swiss company GeNeuro SA to develop a monoclonal antibody to tame a troublemaking protein made by one of those viral gene relics. The envelope protein seems to inflame the central nervous system, and it may also block myelin repair by oligodendrocyte precursor cells (Kremer et al., 2013). A monoclonal antibody called GNbAC1, targeted to the toxic human endogenous retrovirus type W (HERV-W) envelope protein, has completed a phase 2 clinical trial.
The MS-HIV disconnect
The new paper follows up on the original Danish study. Aiming to further test the association between HIV and MS, Gold and his co-authors started with the health records of 5.5 million people in the National Health Service who visited an English hospital from 1999 to 2011 for inpatient or outpatient care.
To rule out confounding factors, they first eliminated anyone with a record of MS before or during their HIV infection, which excluded eight people. They left out about 1000 more people with a prior record of MS, as well as many more who visited the hospital for reasons that might be symptomatic of undiagnosed MS, such as fractures, urinary tract infections, and bowel problems, Gold said.
They do not have the data to prove it, but the researchers presume people with HIV in their study were treated with a cocktail of three antiretroviral drugs. "It was a time when the use of ART was well accepted, and almost everyone who came into the healthcare system with HIV would have been started on treatment," Gold told MSDF.
In the final results, only seven of more than 21,000 people newly diagnosed with HIV developed MS from 1999 to 2011, compared to the 18.3 cases predicted. If the team included only those people who developed MS a year or more later—allowing for more time on the HIV drugs—the gap widens to four observed compared to 15.8 expected cases.
The study "makes a significant contribution to the literature," wrote Mia van der Kop, M.Sc., an epidemiologist at the University of British Columbia in Vancouver, Canada, in an accompanying commentary. "Their replication of previous findings, the magnitude of their effect size and the statistical significance of their results combine to provide further evidence to support the hypothesis that there is an association between HIV (or its treatment) and a reduced risk of MS" (van der Kop, 2014).
Some issues remain to be sorted out in subsequent studies, such as the strong ethnic differences, which affect disease demographics. "In England," van der Kop wrote, "MS is most common among black and minority groups, while most new HIV diagnoses occur in white males." MS also affects more women than men.
"These findings are speculative rather than definitive because the study is observational, added to which there is no information on whether the HIV positive participants had taken anti-retroviral drugs, or for how long," wrote David Baker, Ph.D., who writes using the pen name MouseDoctor on the Multiple Sclerosis Research blog, published by the Giovannoni group in London. "The demographics of HIV and MS in UK are not identical but this study does look at very big numbers of people."
Gold and colleagues are following up in other healthcare data sets, including Kaiser Permanente in the United States, a health maintenance organization that looks after 9.3 million people. A preliminary pass through the data set unearthed only six cases of both MS and HIV.
It was this unusual lack of overlap between HIV and MS that first piqued Gold's interest. His wife's two best friends had developed MS, he recounted in an interview. When he began reading the literature, Gold began to notice the absence of MS at the HIV clinic he runs in Australia and at others around the world. "Despite 750,000 peer-reviewed papers in HIV and over 250,000 peer-review papers in MS, there was never a case described with both HIV and MS that had been treated with HIV ART," Gold said in the journal's podcast.
Before ART, people with HIV experienced neurological symptoms similar to MS that would have been attributed to the infection, Gold said. "The real issue we're interested in is, if you have HIV first, what is your risk, going on, to get MS," he told MSDF. "The fundamental question is why is MS not progressing? Why aren't HIV clinics seeing patients with MS? And why aren't drug companies being asked [about the] interactions between HIV drugs and immune-modulating drugs for MS?"
Three years ago, Gold published the first known case report in the scientific literature of a person with HIV and MS (Maruszak et al., 2011). In his clinic, a man with MS severe enough to cause four to five relapses a year became infected with HIV. After starting on ART, he has been symptom-free for more than 12 years, Gold said.
"I'm hesitant to quote anecdotal cases," Gold said. "One thing in common between HIV and MS is the number of 'miracle' cures and treatments. I have a filing cabinet full of reports of herbs and other concoctions [that], sadly, are rubbish." In fact, Gold and his colleagues are already thinking through the next experimental steps if the pilot clinical trial of the single HIV drug for RRMS produces mixed findings.
Jurassic genes
Although there is no direct evidence for the involvement of an endogenous retrovirus in MS, Gold and other researchers in the field believe their work addresses a root cause of MS with potentially major therapeutic implications.
"The MS drug field is very crowded with very expensive drugs you need to take for the rest of your life" that "try to block or dampen down the immune response," Gold said. "We're hoping to go back [in the disease process] and develop what would be called a functional cure. You can't get rid of [endogenous retroviruses]. It's part of your DNA. But ART is relatively low cost, and there are literally millions of people taking it and leading normal lives."
HERVs may be one or more of the genetic factors in the pathogenesis. Most of the 100,000 retroviral particles scattered through the human genome have been mutated and degraded over thousands of years. They have been handed down through the human genome, Nexø told MSDF, but there may be about 50 different viral genomes that can contribute to human diseases by triggering an immune response.
"These viruses are kind of funny creatures," Nexø said. "They have many properties of an infection, but they [originate] in your chromosomes. They are self and nonself at the same time."
In genetic epidemiology studies of people with MS, Nexø and his colleagues have found two defective endogenous viruses on different chromosomes that seem to work with a version of an HLA gene. He and his team found one of those viruses, HERV-Fc1, on the X chromosome (Nexø, 2011). "Perhaps this is not so surprising, because women have more MS than men," he said. The same virus is present in gorillas and chimpanzees, he said, making it several million years old.
Perron thinks the therapeutic story will be more complicated than deploying HIV drugs for MS. He cites the example of another infectious retrovirus, HTLV-1, which has been implicated in human cancers and isn't well controlled by HIV drugs. "What we are doing is to neutralize the pathological protein produced by the endogenous retrovirus," Perron told MSDF. "Our strategy does not exclude antiretroviral therapy." Perron envisioned the possibility of combined treatments targeting key molecular mechanisms.
It may take 20 years or more to learn the part that endogenous retroviruses play in MS, how they work, and how to optimize therapeutic strategies, Gold said. While other researchers work on the molecular and genetic evidence, there is enough evidence to test HIV drugs in MS and other autoimmune diseases. "I'm an infectious disease person," he told MSDF. "As I said in Copenhagen, you take what might [work like] an infection, you try to block it or stop it. If you block it and get a positive result, you have the link."
Gold urges caution in interpreting the findings of the studies so far. "It's important to take it step by step," he said. "It's important to focus on the evidence."
Key open questions
What is the association between antiretroviral therapy and the development of MS?
Why are there so few documented cases of people with both HIV and MS?
Could HIV infection or antiretroviral therapy protect against MS? If so, what is the mechanism?
Disclosures and sources of funding
Gold and his co-authors declare no competing interests.
Gavin Giovannoni, MBBCh, Ph.D., is a member of the MSDF Scientific Advisory Board. Giovannoni and his group have received research grant support from Bayer-Schering Healthcare, Biogen-Idec, Genzyme, GW Pharma, Ironwood, Merck, Merck-Serono, Merz, Novartis, Teva, and Sanofi-Aventis. He has received personal compensation for participating on advisory boards, trial steering committees, and trial data and safety monitoring boards from AbbVie, Bayer-Schering Healthcare, Biogen-Idec, Canbex, Eisai, Elan, Five Prime, Genzyme, Genentech, GSK, GW Pharma, Ironwood, Merck, Merck-Serono, Novartis, Pfizer, Roche, Sanofi-Aventis, Synthon BV, Teva, UCB Pharma and Vertex Pharmaceuticals.
DOI:
doi/10.7493/msdf.10.12868.1