Genomic Double Play
An ancestral inflammatory protein thwarts myelin-making cells
Infections come and go, but viral DNA can linger. Over the past several million years, residual scraps of ancient viruses have piled up in the human genome—including one gene coding for a remnant viral protein that boosts the destructive immune attacks in the brain and spinal cord in multiple sclerosis (MS). New evidence suggests that the viral protein may go beyond inciting cytokines. It also appears to hobble the myelin-making cells crucial for repairing the damaged protective sheath around axons.
In postmortem tissue samples of six people with progressive MS, researchers found a toxic envelope protein (ENV) in close contact with oligodendrocyte precursor cells (OPCs) in active MS lesions. The protein was absent in normal-appearing white matter. In culture dishes with rat and immature human OPCs, the protein triggered a stress response through a known receptor on the cells. The cells reacted badly, greatly curtailing their myelin proteins. The study was published online ahead of print September 16 in the Annals of Neurology (Kremer et al., 2013).
The findings have immediate translational implications. An antibody to neutralize the harmful molecule has completed early stage safety testing in people with MS, reported GeNeuro, a Swiss-based company, on October 3 at the meeting of the European Committee for Treatment and Research in Multiple Sclerosis (ECTRIMS) in Copenhagen (Derfuss et al., 2013). The drug is being developed to rein in the proinflammatory effect of ENV. Now, the experimental antibody has become one of the few agents in clinical testing with potential to promote myelin repair.
"A lot of people are looking at how to protect these progenitor cells, [with] the idea that the failure of remyelination in MS is explained in part by injury or insult to the progenitor cells that are supposed to carry out the repair process," said Jack Antel, M.D., a neurologist at McGill University in Montreal, Canada, who was not involved in the study. This summer, Antel and his colleagues reported that adult human OPCs were both better at ensheathing axons and more vulnerable to injury than mature oligodendrocytes in culture dishes (Cui et al., 2013). Nonetheless, he told MSDF, "the issue of progenitor injury as a factor contributing to remyelination failure in MS is still a relatively novel and controversial issue."
Sleeping gene, toxic protein
The ENV protein arises from one family of human endogenous retroviruses (HERVs), which make up a whopping 8% of the human genome. Retroviruses reverse the usual flow of genetic information, converting RNA into DNA, which can then be inserted into the host genome. The idea of an endogenous virus can be hard to comprehend, since people think of viruses as foreign invaders of the body, said Patrick Küry, Ph.D., a neurobiologist at Heinrich Heine University in Düsseldorf, Germany, and senior author of the new study. "One has to understand it is something we all have in our genomes," he told MSDF. "It's something that can be reactivated."
The HERV-W gene family, including the MS-associated retrovirus (MSRV) discovered more than 20 years ago, has been linked to MS prognosis and progression. (The HERV-K family is associated with amyotrophic lateral sclerosis.) Last year, the ENV antigen was reported in 75% of blood samples of people with MS but rarely among controls (Perron et al., 2012). Epstein-Barr virus and human herpesvirus 6 infections can turn on the sleeping retroviral genes. HERV-W may first be activated in circulating innate white blood cells called monocytes and macrophages. In MS, the cells travel to the brain, where they may spew viral particles that eventually infect the resident innate immune cells known as microglia. The viral particles may also aggravate the immune reaction indiscriminately. Other studies have shown that ENV has major pro-inflammatory and superantigenic immunological effects, Küry said.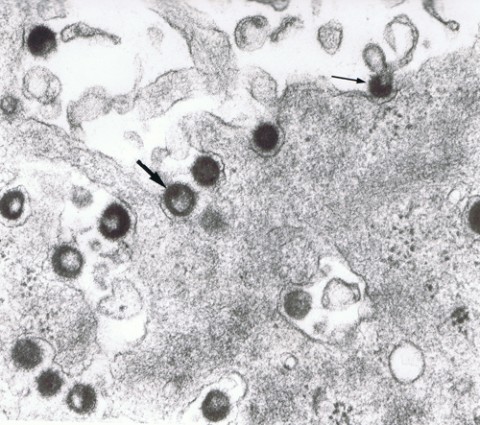 Küry and his colleagues wondered how this proposed pathological process was associated with the regenerative process. The myelin damaged in the inflammatory skirmishes of MS is sometimes repaired, but the OPCs lining MS lesions often seem to be unable to reach out and rewrap the axon to protect neurons. Is the protein or virus involved in the recruitment of OPCs and their repair efficiency?
Led by neurologist and first author David Kremer, M.D., the Heinrich Heine University team started with postmortem tissue samples of active lesions in two people with primary progressive MS and four people with secondary progressive MS, ranging in age from 61 to 77. Histoimmunological staining using an ENV antibody and two OPC markers showed the toxic protein peppered in normal-appearing white matter close to MS lesions but not in distant NAWM nor in healthy control brain tissue. They also found a key receptor of ENV, Toll-like receptor 4 (TLR4), on OPCs in MS tissue.
Moving into tissue cultures of rat and fetal human OPCs, the researchers showed that ENV incites stress in the progenitor cells through the TLR4. OPCs dramatically reduced their myelin protein expression. "We evaluated how many cells were still expressing myelin at all under ENV," Küry wrote in a follow-up email. "We observed a four-fold reduction in OPCs that could still express myelin proteins under ENV, as compared to control (unchallenged) cells."
As the OPCs mature, the TLR4 receptor disappears, suggesting that OPCs are more susceptible to the toxic protein. "It is tempting to speculate that a diminished repair capacity, as observed in many MS patients during the disease course, occurs as a result of the activation of HERV-W elements," Kremer and co-authors wrote in the paper.
"We have done the correlation studies in the MS brain and then provided functional experiments demonstrating what the roles might be," Küry told MSDF. "We have shown strong effects on isolated cells. We now have to validate and confirm these findings in tissue."
Küry and his colleagues have teamed up with Patrice Marche, Ph.D., an immunologist at INSERM and the University of Grenoble, France, and Frank Kirchhoff, Ph.D., a molecular biologist at the University of Saarland, Germany, to develop a mouse model that can mimic the activation of the human genome elements to test the role of the ENV protein in MS pathology and regeneration.
Clinical testing
Meanwhile, Küry and others pointed out, a humanized anti-ENV neutralizing antibody has been developed by GeNeuro, a company founded by the HERV-W discoverer, Hervé Perron, Ph.D., a virologist and co-author of the new paper.
"This is a promising beginning," said Ranjan Dutta, Ph.D., a neuroscientist at the Cleveland Clinic in Ohio. "I find the study comprehensive. The other major advantage is the phase 2 trial, which means they are already ahead of the curve. Let's wait and hope for the best."
Last November, GeNeuro published a phase 1 safety study of the antibody, called GNbAC1, in healthy people (Curtin et al., 2012). In October, the company presented results of its phase 2a trial of 10 people with relapsing-remitting MS (RRMS) and progressive MS at the ECTRIMS meeting (Derfuss et al., 2013) and issued a news release reporting a "good safety profile." Two intravenous doses were given once a month for 6 months in the original study design, which was extended to 1 year, with the last dose set to be given in February 2014.
The next step is the phase 2b clinical trial to show proof of concept, CEO François Curtin, M.D., told MSDF. He expects it to begin in 2014. The phase 2a trial took place at two Swiss sites, but the 2b trial will likely involve several European countries and U.S. centers and may start in summer 2014, he said. The original plan was to focus on people with RRMS, but that may change.
"Based on the work with Küry, we feel it might be interesting for the progressive form of MS," Curtin said. "At the moment, we have not made up our minds."
The considerations include the time and clinical endpoints needed to advance to a definitive phase 3 trial of the antibody, he said. A phase 2b study of RRMS can assess new lesions, a standard measure, and expect to show a difference within 6 months. For progressive MS, the clinical endpoints might be brain volume or disability score, which would likely take 2 years, he said.
A key advantage of targeting the ENV protein is that it appears to have no physiological role beyond its pathological actions in MS, Curtin said. People with MS express the protein in their blood. In brains of people who have died from MS, the protein is present in lesions. Some evidence suggests the protein is there before the inflammation begins. The monoclonal antibody does not target the immune system. "It does not induce immunosuppression, as is the case for many treatments proposed for MS," he said.
Key open questions
Will the neutralizing antibody be useful to slow down disease progression by its anti-inflammatory action and also by restoring myelin?
What is the in vivo function of the ENV protein? To what degree is it shaping regeneration of the brain? What is the impact of the protein in the pathology of demyelination and remyelination?
What genetic background will be needed to create a mouse model to understand the role of HERV-Ws in MS pathology and remyelination? What genetic techniques will be most useful?
Disclosures
The study was funded by the Fondation pour l'Aide à la Recherche sur la Sclérose en Plaques and the Association Française contre les Myopathies (P.K.). The MS Center at the Department of Neurology is supported by the Walter and Ilse Rose Foundation. Potential Conflicts of Interest: C.B.: patents, GeNeuro (payment through salary). J.v.H.: grants and grants pending, Dutch MS Research Foundation. H.-P.H.: consultancy, Biogen Idec, Genzyme, Merck Serono, Roche, Teva. H.P.: patents, bioMérieux, GeNeuro (payment through salary).
DOI:
doi/10.7493/msdf.10.8948.1