The MSDF Drug-Development Pipeline
The founder and curator of MSDF's drug database reveals how it keeps you up to date with experimental and approved therapies in MS and related demyelinating diseases
Dozens of new MS drug-related developments are published in scientific papers or described in press releases every week.
In recent news about disease-modifying drugs for relapsing-remitting MS, for example, dimethyl fumarate (Tecfidera/Biogen) may have a protective effect at the blood-brain barrier. Fingolimod (Gilenya/Novartis) appears to modulate T cell activation. Glatiramer acetate (Copaxone/Teva, Glatopa/generic) inhibits type I interferon signaling in monocytes. And this: Contrary to previous suspicions, cladribine (Movectro/Merck KGaA) may not be associated with an increased risk of cancer at doses used in MS trials. In managing symptoms, 5 years of postmarketing safety data for dalfampridine (Fampyra/Acorda), approved to improve walking in all forms of MS, have been published. And Synthetic Biologics ended its involvement in the development of estriol as an MS therapy after review of phase 2 trial results.
These are just a few examples of the diverse bits of information captured in weekly updates to our drug database, a rich source of detailed information about key MS therapies. Here's a rundown of what the MSDF database contains and how it's kept current.
As of March, the Drug-Development Pipeline contains entries for 44 drugs, including all 12 disease-modifying therapies for MS approved in the United States and Europe, as well as a selection of drugs in earlier stages of clinical development, such as ocrelizumab (Ocrevus/Genentech), which just received fast-track review status from the U.S. Food and Drug Administration (FDA). All told, an estimated 100 agents are under investigation for use in MS. (We hope to add more to our database in the future.)
Information about each drug is contained on a separate Web page and is organized into sections. For example, the "Names" section includes trade names, synonyms, and systematic names. "Physiology" includes drug targets, properties, and mechanisms and effects in humans, human cells, and animal models. "Regulatory and Commercial Status" includes the clinical status for MS (such as phase 1, phase 2, phase 3, or approved), the highest status achieved for any condition, the mode of administration, negative effects, and commercial information.
The page for alemtuzumab (Lemtrada/Sanofi Genzyme), for example, shown at right, contains especially detailed commercial information, which tracks the drug's somewhat difficult path through the U.S. approval process, as well as key events related to its approval in other countries. Material in the mechanism section is largely focused on alemtuzumab's effects on blood cell populations. For instance, we've captured information about the time course of lymphocyte depletion and recovery after alemtuzumab treatment and about the drug's ability to promote the expression of anti-inflammatory cytokines.
Finally, the "Key Clinical Trials" sections contain summaries of published and ongoing placebo-controlled trials, head-to-head trials, and other clinical studies (such as trial extensions, observational/open-label studies, and retrospective medical record reviews). For each trial, information is included about the clinical phase, study aim and design, disease stage, number of participants, duration, and status or outcome.
Returning to the alemtuzumab example, the page contains entries for the key phase 3 trials—CARE-MS I and CARE-MS II—that compared the efficacy of alemtuzumab and interferon β-1a head-to-head and were the basis for alemtuzumab's approval by the FDA. Another entry in this section summarizes a retrospective clinical trial meta-analysis that compared the benefits of 15 different MS therapies using results from 39 trials—and found alemtuzumab to be the most protective against relapses in the first 24 months of therapy.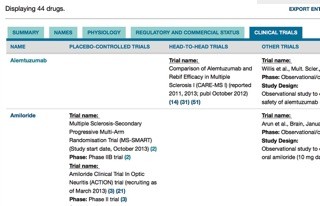 When a new drug page is first created, we aim to provide relatively complete coverage, adding information to as many of the sections described above as possible. Content is entered into the database as bulleted "lines"—that is, relatively short (generally less than 300 characters) snippets of information.
My goal as I write these lines is to be informative without overwhelming with too much detail. Each line is fully referenced, with links to relevant PubMed entries, company press releases, and other sources. Furthermore, each line is written to be understandable on its own, without reference to other lines that are already on the page or that are derived from the same source.
To keep the database up-to-date, we use a set of about 70 PubMed queries covering the drugs of interest (created, for example, by saving a PubMed search such as "fingolimod and multiple sclerosis"), and repeating the searches with the most commonly used names for each drug. These queries run automatically once a week and deliver a list of all new papers in PubMed that meet the search criteria. I read each relevant abstract (and sometimes portions of the paper itself) and write at least one new line summarizing the key point(s) of virtually all papers describing new drug-related research.
Google Alerts helps us keep tabs on commercial developments and press releases about research that hits the news before it's published in a science journal. Using queries similar to those set up for PubMed, we're alerted daily if there is news on the Web about each drug. These alerts are especially active when important MS-related conferences are in progress. I enter information from these alerts into the database weekly.
The weekly database updates are summed up in the podcasts. We will start sharing those on the MS Discovery social media feeds, such as Twitter (@msdforum) and Facebook. We've narrowed the logo design for those social media updates to two finalists. Help us pick the final one by voting for your favorite, to the right.
In the future, we hope to enhance the database further. One idea is to group related material under subheadings in the "Mechanisms and Effects" section. Another improvement is to provide a visual overview to illustrate each drug's mechanism and site of action. Let us know your thoughts!
Key open questions
Is there an additional category of information you'd like to see in the Drug-Development Pipeline?
Do you know of important results that are missing from this database?
Would illustrations be a useful addition to the database?
Edited by Carol Cruzan Morton and Linda Felaco
DOI:
doi/10.7493/msdf.10.27560.1