iConquerMS™ Advances Patient-Driven Multiple Sclerosis Research
First-of-its-kind initiative creates network of 20,000 MS patients to accelerate Big Data approach for answering key questions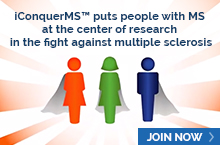 WALTHAM, MA, February 3, 2015 – The Accelerated Cure Project for Multiple Sclerosis today launches iConquerMS™, the nationwide initiative by and for individuals living with multiple sclerosis who recognize the power of their health data and insights and want to harness that power to fuel research. The initiative's portal
www.iConquerMS.org
enables all people living with MS to play an active role in research, empowering them to securely submit their health data, propose topics of research that are most important to them, influence the research that is carried out by the initiative, and become truly informed about the research process and specific studies.
"Our ambitious agenda is nothing less than establishing a new model for research in multiple sclerosis, one that can also be applied to other neurological diseases," said Robert McBurney, Ph.D., President and CEO of the Accelerated Cure Project for MS and the Principal Investigator for iConquerMS™. "Our goal in 2015 is to recruit 20,000 MS patients, each contributing their health data and research ideas and engaging with the research community to shape and accelerate a new generation of research studies."
Dr. McBurney noted the differences between iConquerMS™ and traditional data collection efforts for research, "iConquerMS™ is non-profit, as well as patient-governed and patient-driven. In addition, as the only multiple sclerosis initiative currently in
PCORnet
, the National Patient-Centered Clinical Research Network, iConquerMS™ can contribute health data to other research efforts in a streamlined fashion, while also providing MS researchers access to data from millions of people across the country. We are the first truly patient-powered big data endeavor in MS."
"In my opinion, the proposed compilation of health-related and demographic data and biosamples from tens of thousands of MS patients located across the US represents a significant addition to the research landscape and I enthusiastically welcome its creation," stated Alberto Ascherio, M.D., Dr.P.H., Professor of Epidemiology and Nutrition, Harvard School of Public Health, Professor of Medicine, Harvard Medical School.
High-level representatives from many MS advocacy organizations – including the National Multiple Sclerosis Society, the Multiple Sclerosis Association of America, the Multiple Sclerosis Foundation, and Can Do MS – are actively supporting and participating in the governance of iConquerMS™, encouraging their members to get involved. In addition, Accelerated Cure Project's collaborating MS clinics around the country are alerting their patients to the opportunity to join.
"Understanding the MS experience from the patient's perspective is vital to improving the care of people with MS and to creating effective treatment paradigms," commented Timothy Coetzee, Ph.D., Chief Advocacy, Services, and Research Officer, National Multiple Sclerosis Society. "iConquerMS™ is a ground-breaking initiative that will help to drive research to end MS forever."
"The Multiple Sclerosis Association of America is pleased to support this initiative," said MSAA President and CEO Douglas Franklin. "We encourage the MS community to participate in iConquerMS™. By providing important health data, people with MS have a direct impact in advancing research and improving quality of life."
The iConquerMS™ theme is "Your health information has power!" Data collected at i
ConquerMS.org
can enable insights on a wide variety of topics, such as symptoms, treatments, and quality of life, and could lead to improved diagnoses, better treatment outcomes, and, ultimately, cures for MS. Sign-up is a simple three-step process that can be completed in minutes, facilitated by a Getting Started instructional video. All health data from patients are de-identified before being shared with researchers.
"Thanks to iConquerMS™, people living with MS have a new and strong voice in the research process. We can all contribute our ideas and health data to make a difference," noted Laura Kolaczkowski, the Lead Patient Representative for the initiative. "I want researchers to know about me and my life, since my data – and that of the tens of thousands of other individuals living with MS – hold the clues that will unlock the mysteries of multiple sclerosis."
The initial funding for iConquerMS™ is provided to Accelerated Cure Project for MS by the Patient-Centered Outcomes Research Institute (
PCORI, www.pcori.org
), an independent, non-profit organization authorized by Congress in 2010. Accelerated Cure Project partnered with Arizona State University and Feinstein Kean Healthcare to achieve iConquerMS™.
"Can Do MS is proud to support the iConquerMS™ initiative," said Jennifer Clark, Director of Marketing and Communications of Can Do MS. "Now, MS patients can take an active role in research and share information on a variety of MS-related topics. By standing behind this initiative, we feel the MS community will not only gain better insight, but it will also support patients in managing their MS, which will in turn empower them to take charge of their health and life. That is a big part of our can do philosophy."
A major clinical challenge in multiple sclerosis is the inability to identify characteristics of the disease that would determine which treatments will work best in which patients. "Two important benefits of personalized medicine are to find the right therapy for the right patient at the right time, and to ensure that research and clinical care are patient-centric. iConquerMS™ will advance us towards both those goals," stated Edward Abrahams, Ph.D., President of the Personalized Medicine Coalition.
iConquerMS™ is an initiative by and for individuals living with MS who understand the need to contribute their ideas and their health data to fuel research. iConquerMS™ was established in 2014 as a partnership between the Accelerated Cure Project for MS, a non-profit organization with proven experience sharing resources with MS researchers worldwide; Feinstein Kean Healthcare; and Arizona State University. Funding for the first component of iConquerMS™, called the MS Patient-Powered Research Network (MS-PPRN), has been provided by the Patient-Centered Outcomes Research Institute (PCORI). iConquerMS™ is part of PCORI's national clinical research network, PCORnet.
ACP is a patient-founded non-profit organization dedicated to accelerating research efforts to improve diagnoses, optimize treatment outcomes, and develop cures for MS. The ACP team has proven experience in developing and sharing resources with MS researchers. The organization promotes scientific collaboration and accelerates research by rapidly and cost-effectively providing researchers with the resources they need to explore novel research ideas that can lead to better care for people living with MS. ACP leads the iConquerMS™ initiative, overseeing the
Governing Board and committees
, as well as
PCORI-related activities
. Its deep MS knowledge and community relationships have driven efforts to build and grow iConquerMS™.
Feinstein Kean Healthcare (FKH) provides strategic communications services to life sciences and healthcare innovators. The firm serves the entire biomedical spectrum, including large pharmaceutical, emerging biopharmaceutical, medical device, diagnostics and health IT companies; academic centers; policy organizations; patient advocacy organizations; government agencies; and healthcare providers. FKH is deeply engaged in the technical and cultural challenges of collection, integration, analysis, and dissemination of health data, and has initiated and led multiple national initiatives to address these barriers. FKH is a partner in the iConquerMS™ initiative and the member of the Project Team responsible for the development of all iConquerMS™ outreach and visibility.
CAS @ ASU addresses complex global challenges by combining insights from different fields across the University. It develops and applies information technology to better collect, connect, and enhance this transdisciplinary knowledge, resulting in entirely new technologies and solutions. CAS @ ASU has partnered with Life Data Systems Inc., and together serve as members of the iConquerMS™ Project Team to provide the IT components underpinning iConquerMS™. These components allow people living with MS to easily and securely contribute data and electronic health records. The components ensure the iConquerMS™ data connects seamlessly with
PCORI's national research network.
The Patient-Centered Outcomes Research Institute (PCORI) is an independent, non-profit organization authorized by Congress in 2010. Its mission is to fund research that will provide patients, their caregivers, and clinicians with the evidence-based information needed to make better-informed healthcare decisions. PCORI is committed to continuously seeking input from a broad range of stakeholders to guide its work. For more information about PCORI, please visit
www.pcori.org
.
PCORnet, the National Patient-Centered Clinical Research Network, is an innovative initiative of the Patient-Centered Outcomes Research Institute (PCORI). The goal of PCORnet is to improve the nation's capacity to conduct comparative effectiveness research efficiently by creating a large, highly representative network for conducting clinical outcomes research.
Contact for Media:
Toral Patel
Feinstein Kean Healthcare
732-590-3859
Contact for all other inquiries:
Sara Loud
Accelerated Cure Project for MS
781-487-0032
DOI:
doi/10.7493/msdf.10.16737.1