Is the Month-of-Birth Effect on MS Risk a Statistical Fluke?
Since the late 1980s, a series of papers have reported that people born in late spring, especially in May, are at greater risk for MS. Two recent papers contend that these results are a statistical fluke.
Scores of papers published in the last quarter-century have reported that people with MS are more likely to have been born during some months and less likely to have been born during others. Month of birth (MOB) has also been linked to the risk of schizophrenia, leukemia, cardiovascular disease, and overall longevity, not to mention athletic and academic performance. No single mechanism has been proposed for all of those MOB effects, but in the case of MS risk, the evidence favors the effects of latitude, exposure to ultraviolet light, and, quite likely, maternal vitamin D levels. The MOB effect is consistent with other evidence showing that low levels of vitamin D are associated with increased risk of MS.
Recently, however, Barnaby Fiddes, MRCP, and colleagues at the University of Cambridge proposed that the often-reported MOB effect on MS risk is an artifact that results from researchers failing to control for confounders. They say that previous studies did not properly ascertain the expected value in calculating the MOB effect on risk of MS (Fiddes et al., 2014).
Specifically, Fiddes and his colleagues contend that previous work calculated the expected value for MOB by simply averaging the probability of birth in a given month over an entire country or region, lumping together a great deal of heterogeneity. The geographic distribution of MOB effects both in MS patients and in controls is heterogeneous, they argue, and assuming a homogeneous distribution in the general population consistently overestimates the effect of MOB on MS risk. What's more, they say, the greater the sample size, the more likely that the false positive will appear to be statistically significant.
"The fact that MOB is extremely heterogeneous in the general population is well known in the anthropology literature, but seems to have gone largely un-noticed by those studying MOB as a potential risk factor in multiple sclerosis," the investigators wrote.
The heterogeneity of MOB effects in the general population is both temporal and geospatial. The investigators used national birth statistics to create data sets of the number of births per month in 17 Northern Hemisphere countries. These data revealed more births in spring and fewer between November and January. The MOB effect is stronger at higher latitudes. Typically, one or two months—such as May and November—show statistical significance, the same pattern seen in MS patients.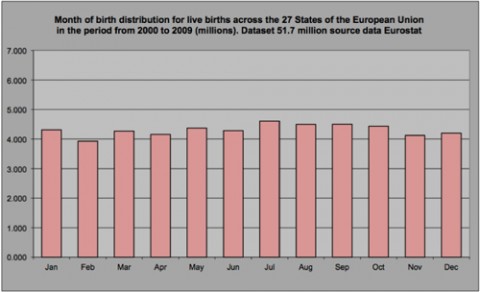 Fiddes and colleagues argue that monthly birth rates also vary within a single country, especially a large one such as the United States, both as a function of latitude and among socioeconomic subgroups within the population. Finally, birth rate is also a constantly changing number that's easiest to document in the change in birth rate from year to year.
Not surprisingly, authors of papers purporting to find the MOB effect don't necessarily agree with Fiddes et al. George Ebers, M.D., FRCP, FMedSci, a co-author of a number of these papers, wrote to MSDF, "[Fiddes] says that you need to correct for place because place influences birth month. This was really annoying because we went out of our way to do this, using unaffected sib controls, who obviously have the same place in the vast majority of instances. If we leave out those without the same place of birth there is no effect in altering the very high significance. The unaffected sib controls give a larger p value than if [the general] population is used."
"Also," Ebers added, "if you take Scottish data, each of [Edinburgh], Dundee, and Glasgow all show independently significant effects."
MSDF attempted to contact two of the authors on the Fiddes papers but was unable to get a comment.
Ruth Dobson, Ph.D., MRCP, of Queen Mary University of London, who reviewed 38 MOB studies in 2012 and published a careful meta-analysis of 10 of them (Dobson et al., 2012), explained to MSDF, "The Australian study, which I couldn't include in my work due to the way the stats were done, matched by precise year of birth and got the same result. Fiddes argues that the effect is a result of matching with years of birth being too disparate (i.e., taking controls with year of birth within 5 or so years of the case), and that the effect disappears if you match by exact year; however this does not explain the Australian data."
"I am personally not convinced by their evidence," Dobson wrote to MSDF. "They have not addressed the findings in the Australian study, which matched cases and controls closely. Also, their data set is not huge."
The Australian study (Staples et al., 2010) concluded that "region of birth and low maternal exposure to ultraviolet radiation in the first trimester are independently associated with subsequent risk of multiple sclerosis in offspring in Australia."
Dobson added, however, that "[Fiddes] does highlight the need for proper, population-based studies in this area with rigorous methodology."
In a commentary in Nature Reviews Neurology last summer (Hintzen, 2013), Rogier Hintzen, Ph.D., of Erasmus Medical Centre in Rotterdam, Netherlands, gave a mixed review of the Fiddes argument. On one hand, Hintzen commended the authors for clearly identifying a confounder that could inform the interpretation of past MOB studies and the design of future ones, and not only in MS research.
But on the other hand, Hintzen noted that Fiddes et al. did not reanalyze the original data in previous studies to show definitively that the MS MOB effect was in fact a statistical fluke. While Fiddes et al. raised the question of false positives, they did not actually demonstrate it in any specific study. And after Fiddes's analysis of U.K. data suggested a small MOB effect on MS risk, including corrections for heterogeneity in MOB, the authors suggested that this MOB effect too was a false positive.
According to Hintzen, two different papers (Staples et al., 2010; Willer et al., 2005) in which temporal and spatial heterogeneity were accounted for nonetheless reported a MOB effect on MS risk, just as the 2013 Fiddes paper did.
In response to an email query from MSDF, Harvard's Alberto Ascherio, M.D., Dr.P.H., wrote, "I believe that Fiddes et al. revealed important sources of bias in most previous studies on MOB and MS risk, effectively weakening the conclusions of those studies, but, as stated by Hintzen, it is not clear whether accounting for these sources of bias completely removes the association."
Month-of-birth effects in the general population are well documented and strongly linked to seasonal effects during embryonic development and the first year of life. In the 2004 monograph The late life legacy of very early life, lifespan expert Gabriele Doblhammer, Ph.D., identified five hypotheses that could explain an apparent MOB effect on lifespan.
One hypothesis posits that the MOB effect is an artifact that results from the interaction of age with the seasonality of death. Another argues that differences in mortality by month are a consequence of different socioeconomic groups conceiving at different times of year. The third hypothesis depends on the well-known MOB effect on academic and athletic performance. A fourth hypothesis proposes that since infants born in winter have a higher mortality in the first year of life than infants born in summer, differential selection by season creates more summer-born children and adults.
The last hypothesis that Doblhammer discusses proposes that physiological insults during embryonic development and infancy affect lifelong health. Individuals conceived in some months are at greater risk of suffering such insults than others. In her monograph, Doblhammer reviews the evidence for each of the five hypotheses and dismisses all but the last. "The results support the theory of there being a critical period early in life that affects adult health and survival without other mediation life-course factors," she wrote. Doblhammer goes on to discuss the effect of nutrition and disease in fetal and infant health and development on overall longevity.
Hintzen's review of Fiddes et al. suggests that it's not the size of the MOB effect that's important. Instead, knowing that there is some effect leads to questions about how the fetal environment might alter MS risk later in life. And it is this avenue of research, Hintzen writes, that may be most fruitful.
Dobson heartily concurred, telling MSDF, "I would agree entirely! To me it seems that there is something driving this during pregnancy. At the moment, all we can use is supposition to try to establish what this is. But the more I think about things, [the more] I feel that pre-natal factors and childhood are the times at which we can alter later MS risk. By the time someone is an adult it is likely to be too late to substantially alter risk."
Key open questions
• What factors during fetal and infant development might alter MS risk later in life?
• What do the specific qualities of the MOB effect suggest about the mechanism for creating even a small effect?
• Can previous studies that did not control for confounders be reanalyzed?
Disclosures
Doblhammer, Dobson, Hintzen, Staples et al., and Willer et al. declared no competing interests. Fiddes declared "grants and grants pending and a Sackler Studentship." One author on Fiddes (2013), Alistair Compston, disclosed "consultancy, Genzyme; speaking fees, Genzyme, Bayer; patents, biomarkers for treatment with alemtuzumab; royalties, McAlpine's Multiple Sclerosis."
DOI:
doi/10.7493/msdf.10.10738.1