3-Year Average Delay in Identifying SPMS Transition
Diagnostic uncertainty regarding the transition from RRMS to SPMS may last about 3 years, with the delay potentially affecting not only patient care but also research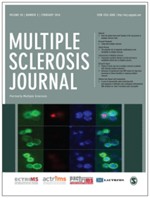 Diagnostic uncertainty regarding the transition from relapsing-remitting multiple sclerosis (RRMS) to secondary progressive MS (SPMS) may last about 3 years, with the delay potentially affecting not only patient care but also research, according to a study published online February 3 in the Multiple Sclerosis Journal (Sand et al., 2014).
"[SPMS] is typically defined as deterioration independent of relapses for ≥ 6 months following an initial relapsing–remitting course; however, this definition is not always easily applied in clinical practice and the declaration of the change in clinical phenotype is often delayed," wrote Ilana Katz Sand of the Corinne Goldsmith Dickinson Center for Multiple Sclerosis at Mount Sinai Medical Center in New York, NY, and colleagues.
Distinguishing RRMS from SPMS is important, as they have different disease courses resulting in different therapeutic decisions and management. Furthermore, clinical trials, and often regulatory approval, are usually intended only for one or the other, and not for a combined or intermediary state.
The study goal was to examine the length of time needed to reclassify RRMS patients who had transitioned to SPMS in clinical practice, using a sample of 123 MS patients with long-term follow-up. In a subgroup of 20 patients who transitioned from RRMS to SPMS, 14 had some follow-up visits in which it was unclear which subtype of MS they had, because there was possible but not definitive progression. The mean duration of this period of uncertainty was 2.9 ± 0.8 years.
Implications of delayed SPMS diagnosis
"A period of diagnostic uncertainty regarding the transition from RRMS to SPMS existed in many of our patients," the study authors wrote. "Potential reasons included the subtle nature of early progressive disease and caution in applying a progressive label, in light of the lack of evidence-based treatments as well as third-party payer concerns. Delay in definitive identification of an SPMS phenotype has a variety of implications related to patient care and research."
Diagnostic uncertainty may result when the patient reports worsening but there is little change in the neurological examination. As there are currently no evidence-based treatments available for SPMS, the clinician may be appropriately reluctant to use the SPMS label. Furthermore, patients may become unduly anxious regarding their prognosis if they are incorrectly told they have SPMS, and third-party payers may no longer reimburse for needed treatments.
Conversely, if the diagnosis of SPMS is delayed, patients may remain on RRMS treatments that are ineffective for SPMS, leading to unnecessary adverse effects and costs.
"As new therapies are introduced, especially those with potential neuroprotective effects, early SPMS may represent a window of opportunity for intervention," the study authors concluded. "In addition, patients with SPMS represent a difficult population to study; the identification of a larger patient group with early SPMS could improve recruitment for clinical trials. Though limited by its retrospective design and single-provider patient group, this study suggested that better tools are required to identify early SPMS, and the clinical subtypes could be revised to better encompass a transitional MS spectrum."
Key open questions
How can diagnostic uncertainty regarding SPMS best be reduced?
How might earlier, definitive recognition of SPMS improve outcomes through implementation of early, effective interventions?
Disclosures and sources of funding
The National Multiple Sclerosis Society supported this work in part. Some of the study authors reported various financial disclosures with the National Multiple Sclerosis Society, the Guthy Jackson Charitable Foundation, Accordant Health Services, Acorda Therapeutics, Bayer HealthCare Pharmaceuticals, Biogen Idec, EMD Serono (Merck Serono), Genentech, Genzyme, Novartis, Nuron Biotech, ONO, Osmotica, Questcor, Roche, Sanofi-Aventis, and/or Teva Neuroscience.
DOI:
doi/10.7493/msdf.10.9706.1