Teriflunomide Gets High Marks in Yet Another Phase 3 Trial
This placebo-controlled phase 3 study of oral teriflunomide for patients with relapsing MS concluded, as have previous studies, that the disease-modifying agent is safe and efficacious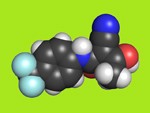 Evidence continues to accumulate that the disease-modifying agent teriflunomide may be a good option for managing patients with relapsing multiple sclerosis (MS). The latest confirmation: results from a new placebo-controlled, phase 3 trial published online first by The Lancet Neurology (Confavreux et al., 2014). 
The positive findings are in line with those from a previous placebo-controlled phase 3 study that compared teriflunomide with interferon β. Details of that study were reported by MSDF in October 2013.
In the present study, referred to as the TOWER trial (Teriflunomide Oral in People With Relapsing Multiple Sclerosis), researchers designed a randomized, double-blind, placebo-controlled phase 3 study that recruited nearly 1200 patients from 189 sites in 26 countries worldwide.
All participants had been diagnosed with MS and had experienced at least one relapse during the previous 12 months or two or more relapses during the previous 2 years. However, none of the participants had experienced an exacerbation during the month preceding enrollment in the study.
In addition, all study participants had scored 5.5 or less on the Expanded Disability Status Scale.
Between September 2008 and February 2011, TOWER investigators randomized 1,169 patients to one of three groups: once-daily placebo, 7 mg of teriflunomide, or 14 mg of teriflunomide. Duration of treatment varied, ending 48 weeks after the final patient was enrolled.
Based on their findings, the TOWER investigators reported, "Once-daily oral teriflunomide 14 mg significantly reduced both annualised relapse rate and disability accumulation compared with placebo. Patients who received teriflunomide 7 mg had a significant, albeit smaller, reduction in annualised relapse rate, but without a significant effect on accumulation of disability." 
More specifically, the researchers said, by the time the study concluded the annualised relapse rate was higher in patients taking placebo (0·50 [95% CI 0·43–0·58]) than in patients taking 14 mg teriflunomide (0·32 [0·27–0·38]; p = 0·0001) or 7 mg teriflunomide (0·39 [0·33–0·46]; p = 0·0183).
In addition, the researchers said, patients taking 14 mg of teriflunomide showed reductions in accumulated disability. However, the 7-mg dose was not associated with that effect.
In line with previous studies, about 30% of patients in the trial discontinued treatment prior to the conclusion of the study. The most common adverse events, occurring in approximately the same proportion in all treatment groups, were elevations in alanine aminotransferase levels, hair thinning, and headache. 
"These results confirm the dose effect reported in previous trials and support the use of teriflunomide 14 mg in patients with relapsing multiple sclerosis," the researchers conclude.
In comments accompanying the article, Bernd C. Kieseier, M.D., of the Department of Neurology at Heinrich Heine University in Dusseldorf, Germany, along with a co-author, noted, "Treatment of multiple sclerosis is becoming increasingly complex, and global patient registries are urgently needed to obtain efficacy data in real-world conditions to guide physicians when choosing the most appropriate drug. Teriflunomide has the potential to become one of these choices for patients with mild to moderate disease activity."    
Key open questions
The TOWER study did not include evaluation by magnetic resonance imaging studies. How would the MRIs of the three study groups compare?
Nearly a third of patients in the TOWER study discontinued treatment prior to the conclusion of the study. That is about the same discontinuation rate as has been seen in previous studies with oral drugs. What strategies might be employed to reduce such discontinuation?
Disclosures
The various authors of the main study paper disclosed a number of possible conflicts of interest, including Acorda Therapeutics, Actelion, Advancell, Allozyne, BaroFold, Bayer, Bayer HealthCare, Bayer Schering, Bayhill, Biogen Dompé, Biogen Idec, BioMarin, BioMS, Celgene, Cognosci, Consortium of MS Clinics, CSL Behring, Daiichi Sankyo, Elan, EMD Canada, EMD Serono, EU Research Foundation, Gemacbio, Genentech, Genmab, Genmark, GeNeuro SA, Genzyme, Gianni Rubatto Research Foundation, GlaxoSmithKline, Hertie Foundation, Hoffmann-La Roche, Jansen RND, Lilly, MediciNova, Medscape CME, Merck Serono, Millipore, Novartis, Novo Nordisk, Osmotica, Peptimmune, Prime, Roche, Sanofi-Aventis, Santhera, Swiss MS Society, Swiss National Research Foundation, Teva, Teva Canada Innovation, Teva Neurosciences, and UCB Pharma.
The commentators disclosed conflicts with Bayer HealthCare, Biogen Idec, Deutsche Forschungsgemeinschaft (DFG), Else Kröner Fresenius Foundation, Fresenius Medical Care, GlaxoSmithKline, GW Pharmaceuticals, Hertie Foundation, Merck Serono, North Rhine Westphalia Ministry of Education and Research, Interdisciplinary Centre of Clinical Research Münster (IZKF), Novartis, Rasmussen's Encephalitis Children's Project, Roche, Sanofi Aventis, and TEVA Neuroscience.
The study was funded by Genzyme, a Sanofi company.  
DOI:
doi/10.7493/msdf.10.9568.1