Early-Detection Probe for MS Exploits Coagulation Protein
An activatable cell-penetrating peptide accumulates with thrombin activity in EAE mice
SAN DIEGO—Researchers led by Katerina Akassoglou, Ph.D., reported that they have developed an early-detection system for MS that could soon be used to diagnose disease, monitor relapsing attacks, and evaluate the effectiveness of treatments in patients. The fluorescent probe, developed in a mouse model, glows in response to thrombin activity and accumulates in brain cells. Akassoglou and her colleagues from the Gladstone Institutes at the University of California, San Francisco, reported the findings at this year's meeting of the Society for Neuroscience in San Diego.
"We know the blood-brain barrier is disrupted before disease onset," said Dimitrios Davalos, Ph.D., in his presentation of the work, "and we know that coagulation factors are dysregulated in MS lesions." The team wondered how coagulation activity might be exploited as an indicator for neuroinflammation in MS. Akassoglou had seen a presentation from Nobel laureate Roger Tsien at the University of California, San Diego, about an activatable cell-penetrating peptide that labels cancerous cells. Could a similar peptide probe identify early MS activity?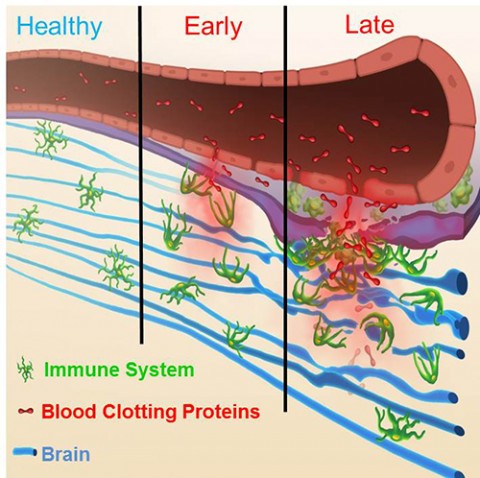 Early MS lesions in humans and experimental autoimmune encephalomyelitis (EAE) mice are full of fibrin deposits, a product of proteolytic thrombin activity. "We hypothesized that the thrombin protease must be active early in the disease; otherwise we wouldn't see fibrin," Akassoglou told MSDF. As an extracellular protease in the coagulation cascade, thrombin fit the bill as a potential activator of a peptide probe. In collaboration with Tsien, the investigators created a cell-penetrating peptide to label thrombin activity.
The probe consists of a fluorescent Cy5 cargo and a peptide linker sequence designed to be cleaved by thrombin. Uncleaved, the probe stays out of cells, but upon peptide cleavage, the positively charged fluorescent end of the probe becomes attracted to negatively charged cell membranes and gets taken up by endocytosis. Davalos injected EAE mice with the probe and then 24 hours later used immunocytochemistry to visualize the spinal cord. "There was a lot of signal uptake in EAE mice compared to healthy mice," he reported.
The investigators detected thrombin activity beginning on the first day of onset of clinical signs of EAE and correlated strongly with disease severity in the mice, Davalos said in his presentation. "As long as thrombin is active and the peptide is in the tissue, it continues to be taken up and gets concentrated in cells," Davalos said. The probe was primarily taken up by microglia and macrophages.
To show the probe's specificity for thrombin activity in vivo, the researchers injected the peptide in EAE mice with genetically reduced or absent prothrombin, a precursor to thrombin. Although they had previously tested the probe's specificity for thrombin cleavage in vitro, Akassoglou told MSDF, "this genetic experiment in mice finally determined that the probe was indeed specific for thrombin activity."
Although fluorescent signals are not optimally detected by human brain imaging, the probe molecule could be engineered to include gadolinium, which is widely used as a contrast agent in human magnetic resonance imaging, Akassoglou told MSDF. 
While molecular probes such as this are not meant for widespread screening, Akassoglou said at a press conference, it could one day be used to diagnose patients who are suspected of having MS, or to help monitor disease progress in people with relapsing-remitting, primary or secondary progressive MS. "We want to understand how close the next relapse is," she told MSDF. "Early detection makes a very big difference in treatment." Importantly, she added, the probe might reveal how a patient is responding to treatments. "We want to see early signs of positive or even negative responses" to medications, Akassoglou told MSDF.
The probe might also be useful to detect other neuroinflammatory conditions in which thrombin activity indicates early damage in the central nervous system. Akassoglou and her team hope that the thrombin-activated cell-penetrating peptide will follow in the footsteps of the cancer-detection probe Tsien described, which is now in human clinical trials.
Key open questions
How soon might clinical trials of a thrombin-activated probe be used in human MS patients?

Will the probe be sensitive enough to detect patients' positive or negative treatment responses? I.e., is thrombin activity in MS patients dynamic enough to rapidly reflect disease modification as well as progression?
Disclosures
The new study was supported by funds from the National Multiple Sclerosis Society, the Nancy Davis Foundation for Multiple Sclerosis, and the National Institutes of Health. The authors had nothing to disclose.
DOI:
doi/10.7493/msdf.10.8695.1