International Progressive MS Alliance Announces New Research Grants
An international group committed to advancing research and treatment in progressive MS has announced €22 million in grants
The International Progressive MS Alliance today announced its first round of 22 grants to researchers in nine countries. This round of funding begins a 5-year program that will ultimately involve grants totaling €22 million ($28.9 million USD), all with the goal of finding effective treatments for progressive multiple sclerosis.
Members of the alliance made the announcement at a press conference held in conjunction with MSBoston2014, the joint meeting of the Americas Committee for Treatment and Research in Multiple Sclerosis (ACTRIMS) and the European Committee for Treatment and Research in Multiple Sclerosis (ECTRIMS) in Boston.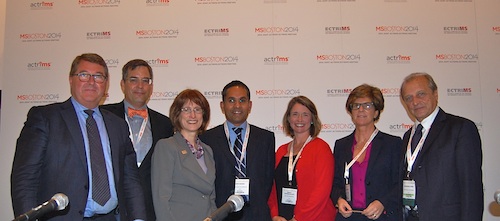 The International Progressive MS Alliance was born in 2012 after a big push from patients with progressive MS from all over the world. "My major challenge is fear," Carol Steinberg, 60, an attorney with progressive MS, said at the press conference. "This is so emotional to me to see all of you who are willing to wage this battle on my behalf."
"For the first time, MS Societies around the globe are funding research together, without considering geography, in order to find answers the progressive MS community urgently needs," Cynthia Zagieboylo, chair of the Alliance Executive Committee and CEO of the National MS Society, said in a press release.
According to the alliance, the first round of grants is meant to help get the ball rolling on answering many open questions in progressive MS, such as understanding nerve degeneration and identifying new treatments. These pilot studies are meant to run for 1 to 2 years.
Though €22 million might seem paltry compared to the $112 million the NIH spent on MS research in 2013 alone, members of the alliance asserted that funding is not the most important aspect of this initiative.
Alan Thompson, M.D., chair of the Scientific Steering Committee at the Alliance, said that this is the first truly global initiative to solve the mysteries surrounding progressive MS. Thompson's co-chair, Giancarlo Comi, M.D., added, "To produce any kind of evolution in science, we need integration and cooperation … towards concerted action."
The alliance is a collaborative effort of the following MS Societies:
Later this year, the alliance will be accepting new applications for the next round of funding. Bruce Bebo, Ph.D., associate vice president of discovery research at the alliance, said that the next round of grants will be substantially larger. Initial grants will be for 1 year for up to €50,000 for planning and coordination. From there, grantees can go on to earn up to €1 million per year for up to 4 years. These grants are called collaboration awards. MSDF will post details of the application process on our Funding Opportunities page when they become available. For additional information, visit the alliance's website.
The 22 first-round funding recipients and their projects are:
DOI:
doi/10.7493/msdf.10.13641.1