Ultrahigh-Field MRI May Detect Additional Pathology in EAE
In a mouse model of MS, ultrahigh-field MRI detected lesions not visible with conventional MRI. The technique also detected signs of spinal cord ischemia in human patients with MS.
Ultrahigh-field magnetic resonance imaging (MRI) may detect pathological changes not visible with conventional MRI, according to findings from a study using mice with experimental autoimmune encephalomyelitis (EAE) as a model for multiple sclerosis (MS).
"[T]he pathological hallmark of MS, demyelinated lesions in the [central nervous system (CNS) white matter, can be visualized as focal signal changes detected by MRI," wrote Yuki Mori of the WPI Immunology Frontier Research Center Laboratory of Biofunctional Imaging at Osaka University in Japan and colleagues. "However, the size and number of the MRI lesions have had only modest correlations with neurological impairments in MS. Furthermore, such alterations reflect relatively advanced pathogenesis and not earlier symptoms like the breakdown of the blood–brain barrier (BBB) or edema accumulation" (Mori et al., 2013).
The study appeared online ahead of print on October 22, 2013, in International Immunology.
To induce EAE, the investigators injected a genetically susceptible strain of mice with a myelin oligodendrocyte glycoprotein and pertussis toxin to stimulate an immune reaction against myelin, which is the nerve coating affected in MS. They then took CD4+ T cells from mice that developed this immune reaction and injected them into genetically normal mice, thereby inducing a passive transfer EAE model.
Previous EAE research by Dr. Mori's group showed that autoreactive T cells accumulate in the fifth lumbar (L5) region of the spinal cord, passing the BBB and causing CNS inflammation. The goal of the present study was to use ultrahigh-field MRI to visualize this early event in EAE.
T2-weighted images showed early edema
During EAE development, T2-weighted image signals, which reflect water content, increased at L4 and L5, and the sizes of these spinal cord regions increased, suggesting early edema.
Investigators also observed significant changes in branch positions of the blood vessels in lower spinal cord regions visualized on angiographic MRI images. Particularly during the peak phase of EAE, these vessels were occluded and thickened. In the remission phase, on the other hand, the investigators observed reperfusion.  
"These MRI data clearly support our theory that L5 dorsal vessels are the starting point of inflammation, which then spreads to other levels of the spinal cord," the study authors wrote. "These results suggest that inflammation-mediated alterations in the lower lumbar cord change the homeostasis of the spinal cord and demonstrate that ultrahigh-field MRI enables the detection of previously invisible pathological alterations in EAE."
The investigators suggested that there may be a reperfusion injury downstream of the occluded vessels. Supporting this theory, they found that apoptosis, or programmed cell death, and free radical concentrations increased in L5 in the peak phase of EAE. Furthermore, treatment with edaravone, which is a free radical scavenger, attenuated EAE development and reduced changes detected by ultrahigh-field MRI.
Human studies
In some persons with MS, proton magnetic resonance spectroscopy showed that lactic acid content increased in regions of demyelination, suggesting ischemic events. Choline levels also increased compared with those in control subjects matched for age and sex.
"Our results suggest that the pathogenesis at least in a subgroup of MS patients might be related to ischemic events caused by reperfusion injuries," the study authors concluded.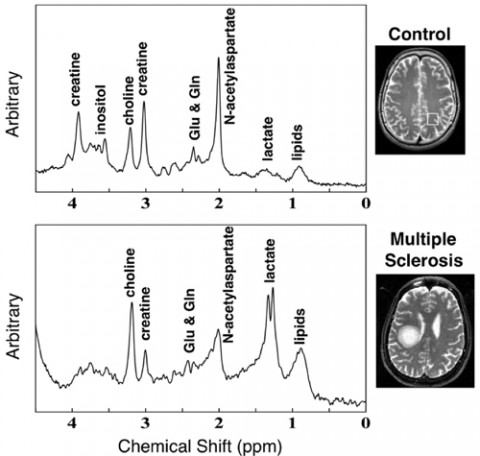 Key open questions
Would use of ultrahigh-field MRI be of diagnostic and/or prognostic value in persons with MS, and/or as a marker of response to therapy in clinical trials?
Would ischemic events caused by reperfusion injuries be a feasible therapeutic target in some subgroups of persons with MS?
Disclosures
The study authors reported having no financial disclosures.
DOI:
doi/10.7493/msdf.10.8247.1