Oral Laquinimod May Reduce Destructive Pathology in RRMS
Laquinimod appears to reduce brain MRI findings of inflammatory destruction in relapsing-remitting multiple sclerosis
Treatment with oral laquinimod may reduce MRI evidence of destructive brain pathology in persons with relapsing-remitting multiple sclerosis (RRMS), according to the results of a randomized trial reported online ahead of print September 12, 2013, in the Journal of Neurology, Neurosurgery and Psychiatry (Filippi et al., 2013). This drug is a new immune system modulator.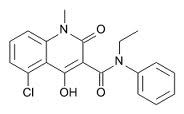 The results come from a trial called Assessment of OraL Laquinimod in PrEventing ProGRession in Multiple SclerOsis (ALLEGRO). The phase 3 study showed that oral laquinimod slowed disability and the progression of brain atrophy, suggesting that the drug may reduce tissue damage. "MRI techniques sensitive to the most destructive aspects of the disease were used to further investigate laquinimod's potential effects on inflammation and neurodegeneration," wrote Massimo Filippi of the Neuroimaging Research Unit at the Vita-Salute San Raffaele University in Milan, Italy, and colleagues from the ALLEGRO Study Group.
In this study, 1106 participants with RRMS were assigned 1:1 to receive oral laquinimod (0.6 mg) or placebo, once daily for 24 months. At baseline, 12, and 24 months, participants underwent brain MRI. This allowed calculation of volumes of brain tissue in white matter (WM) containing nerve fibers, in gray matter (GM) containing brain cells, and in the thalamus, a central relay station processing sensory input and motor output.
Use of gadolinium contrast allowed visualization of "permanent black holes (PBH)," formed from gadolinium-enhancing and/or new lesions seen on T2 MRI sequencing. Other measurements of brain tissue damage were magnetization transfer ratio (MTR; a marker of brain tissue disruption) in normal-appearing brain tissue (NABT), WM, GM, and T2 lesions.
Proton MR spectroscopy allowed measurement of WM levels of N-acetylaspartate/creatine (NAA/Cr), a marker of nerve fiber and nerve cell integrity. In untreated persons with RRMS, NAA/Cr typically decreases by approximately 5% per year.
Less brain damage with laquinimod
Atrophy, or loss of brain tissue, is a marker of irreversible brain damage associated with progression of disability. At months 12 and 24, participants given laquinimod had lower rates of WM atrophy (p = 0.004 and p = 0.035, respectively) than those given placebo. They also had less GM atrophy at month 12 (p = 0.004).
Other improvements with laquinimod compared with placebo were slowing of thalamic atrophy at month 12 (p = 0.005) and month 24 (p = 0.003) and fewer PBH at 12 and 24 months evolving from active lesions (p < 0.05).
In participants receiving placebo, but not in those receiving laquinimod, MTR decreased by month 24 in NABT (p = 0.015), WM (p = 0.011), and GM (p = 0.034).
"Together, results of these assessments made using a variety of MRI approaches indicate oral laquinimod is likely to exert a neuroprotective effect resulting in a reduced amount of irreversible brain tissue damage, which in turn might explain the observed ability of the drug to slow down disability accumulation in RRMS patients," the study authors concluded.
Key open questions
Why does oral laquinimod appear to have a greater neuroprotective effect against irreversible brain tissue damage during the first compared with the second year of treatment?
Could oral laquinimod be used synergistically with other MS treatments for greater effect?
Disclosures
Teva Pharmaceutical Industries funded this study. Some of the study authors reported various financial disclosures involving Teva Pharmaceutical Industries Ltd., Genmab A/S, Bayer Schering Pharma, Biogen Idec, Merck Serono, Novartis, Pepgen Corporation, Fondazione Italiana Sclerosi Multipla, the Italian Ministry of Health and Cure PSP, Serono Symposia International Foundation, BioMS Medical, Pfizer, Glaxo, Acorda, Genzyme, Questcor, Abbott, Actelion, Advancell, Almirall Allozyne, Barofold, Bayer HealthCare Pharmaceuticals, Bayhill, CLC Behring, Elan, GeBeuro SA, Johnson and Johnson, Lilly, Mitsubishi Pharma, Novonordisk, Octapharma, Petimmune, Sanofi-Aventis, Roche, Teva, UCB, Xenoport and/or Wyeth.
DOI:
doi/10.7493/msdf.10.7665.1