Sexual Dysfunction Fuels Mental Problems in MS Patients
Sexual dysfunction appears to have a significant impact on mental health in people with MS
In people with multiple sclerosis, sexual dysfunction has a much more detrimental effect on mental health than do physical disabilities.
That is the conclusion of a survey that queried more than 6000 people with MS. The results were published online September 2 by the Multiple Sclerosis Journal (Schairer et al., 2013).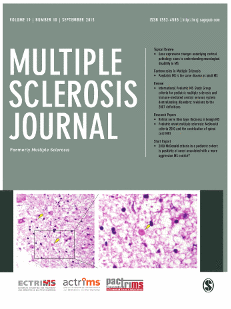 "The estimated prevalence of sexual concerns in the MS population ranges between 40% and 80%; however, relatively little research has evaluated the impact of sexual dysfunction on quality of life in comparison to other common MS symptoms," wrote Frederick W. Foley, Ph.D., a professor of psychology at Yeshiva University in Bronx, New York, along with colleagues.
The authors pointed out that four previous studies have delved into that issue, but each, they say, has suffered from one or more methodological problems.
Aiming to find out more, these researchers used validated sexual-dysfunction measures, specific to MS, to assess the impact of sexual-related problems on health-related quality of life (HrQoL). They surveyed 6183 patients from the North American Research Committee on Multiple Sclerosis (NARCOMS) Registry. Mean age of the participants was 50.6 years. About three-quarters were female.  
Besides self-reporting demographic information, each participant also completed several surveys: The Multiple Sclerosis Intimacy and Sexuality Questionnaire-19 (MSISQ-19), a disease-specific measure of sexual dysfunction; Patient Determined Disease Steps (PDDS), a nine-point rating scale used to quantify severity of disability; and the Short Form-12 (SF-12), one of the most widely used generic tools to assess quality of life.
Reporting their results, the authors wrote, "In this large national sample of people with MS, we found that sexual dysfunction had a relatively large detrimental impact on the mental aspects of HrQoL compared to disability level and demographic factors."    
More specifically, they said that nearly all the variables evaluated—which included age, employment status, and overall disability levels—predicted both the physical component summary (PCS-12) and the mental component summary (MCS-12) of the SF-12. Gender was found to be a predictive variable during the initial steps of the analysis but did not remain so in the end.
"Scores on the MSISQ-19 uniquely accounted for 3% of the variance in PCS-12 scores while disability level, as measured by PDDS, accounted for 31% of the variance," the authors wrote. "Conversely, MSISQ-19 scores uniquely accounted for 13% of the variance in MCS-12 scores, whereas disability level accounted for less than 1% of the variance."
The researchers said their results underscore the need for clinicians to ask patients with MS about their sexual concerns. 
"Clinicians can use the MSISQ-19 in their practice as a quick screen for sexual dysfunction. Any score of 3 or higher on a symptom should be queried for further intervention," they wrote. 
They also said that given the significant impact sexual dysfunction has on mental health, clinical trial investigators who use HrQoL as a secondary outcome measure should be mindful of the possible impact of sexual dysfunction on scores and perhaps consider including the MSISQ-19 as an additional measure of outcome.  
In addition, they emphasized that new treatments need to be developed that specifically address the unique quality-of-life problems posed by sexual dysfunction in MS patients.   
Key open questions
This study did not ask participants about any treatments they had undergone to deal with MS-related sexual dysfunction. How might such treatments affect sexual problems?  
The study population was limited to patients residing in the United States. How might results differ in MS patients residing elsewhere?  
Disclosures    
The authors have disclosed no relevant financial conflicts of interest. The NARCOMS Registry is supported in part by the Consortium of Multiple Sclerosis Centers and its Foundation.
DOI:
doi/10.7493/msdf.10.7497.1