Sleep Boosts Remyelinating Glial Cells
Oligodendrocyte precursor cells proliferate during sleep in mice. Could increasing the pool of this critical cell type tip the balance toward remyelination?
Multiple sclerosis (MS) robs neurons of myelin, but replenishment of lost myelin could be improved, new research suggests, by getting better sleep. Research from Chiara Cirelli, M.D., Ph.D., and her colleagues at the University of Wisconsin, Madison, shows that sleep promotes proliferation of cells key to remyelination, at least in mice.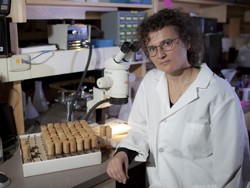 Oligodendrocyte precursor cells (OPC) proliferate, mature, and form new myelin throughout life in both the healthy and diseased brain, but their activity remains incompletely understood. It now appears that their pursuits vary with behavior. In recent years, research has revealed a sort of molecular yin-yang within the sleep-wake cycle: While one set of genes is turned on to carry out specific tasks during sleep, a complementary set of jobs is relegated to waking hours. Such is the case for OPCs, according to the new work published September 4, 2013, in The Journal of Neuroscience (Bellesi et al., 2013).
Cirelli's team used translating ribosome affinity purification (TRAP) technology to home in on genes that might be specifically turned on or off during sleep and wake in mice. By using the TRAP technique, they captured a snapshot of genes being translated into proteins rather than just measuring messenger RNA levels. In order to determine which genes were regulated by either behavioral state or time of day, the researchers measured gene activity at 3 a.m., when mice were actively awake, and at 3 p.m., when mice were either sleeping or kept awake (sleep deprived).
Around 2% of the oligodendrocytes' genes were differentially controlled by sleep or wake, regardless of time of day. Genes preferentially turned on during sleep controlled cell proliferation and metabolic functions such as membrane production—key to myelination—whereas wake-related genes were associated with cellular stress responses and maturation. A separate set of genes was specifically regulated by time of day, regardless of whether mice were sleeping or awake.
Next, the team injected mice with BrdU, a synthetic component that becomes incorporated in the DNA of newly born cells, at the beginning of either the sleep or wake period, allowing them to track new OPCs during each behavior. They found that twice as many new OPCs arose during sleep as in wake, suggesting that rest supports proliferation of these specialized cells. Because the population level of OPCs remains relatively constant over the course of days, the researchers reasoned that wake-related activity must either dispose of or convert the OPCs to mature, myelinating oligodendrocytes; they found evidence for the latter.
How the new findings might translate to the clinic remains to be seen, but a better understanding of the conditions that optimize remyelination could lead to new therapeutic avenues for healing cells stripped of their protective coating by MS. 
Key open questions
Are OPC populations reduced in MS patients, and is that a limiting factor to remyelination?
Could sleep help replenish OPCs and promote remyelination in people?
Disclosures
The authors have disclosed no relevant financial conflicts of interest.
DOI:
doi/10.7493/msdf.10.7448.1