New MRI Technique Visualizes Lesion Repair
Using standard MRI techniques coupled with advanced statistics, researchers have demonstrated a potential new way to monitor lesion repair in a proof-of-concept study with a small cohort of highly active RRMS patients
The writing is on the wall: MS patients need more effective treatments. Those treatments will likely be agents that protect or even repair nerve tissue. Though finding such drugs is challenging enough, another obstacle is demonstrating their efficacy in humans. At present there's no practical way to monitor tissue repair in patients in clinical trials.
But a proof-of-concept trial published today in the Multiple Sclerosis Journal demonstrates that monitoring the reduction—as opposed to the appearance—of a lesion may be possible using standard magnetic resonance imaging (MRI) techniques (Reich et al., 2015) [free full text]. The secret ingredient is advanced statistics.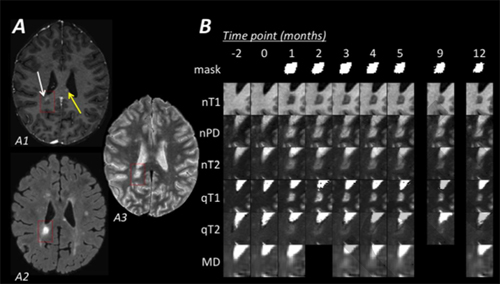 The researchers followed six patients with relapsing-remitting multiple sclerosis (RRMS) for at least 12 months. They took a baseline MR image and then monitored for new lesions every month using proton density (PD), T1, and T2 weighting.
To analyze the images, the researchers first had to normalize them. Normalization typically involves taking the numerical value of each pixel in the one image and dividing it by the numerical value of the same pixel in a second image. But this method increases noise. Instead, the team minimized noise by standardizing the MR images to a specific portion of white matter without obvious MS plaques. Reducing noise augments statistical power. The team compared the images before and after the lesions formed to assess how much the image of the lesion returned to baseline.
When clinicians and researchers examine the signal intensity within lesions, they do so by comparing the mean or median pixel intensity across the whole lesion. When lesions form, the damage radiates outward from the center but is repaired from the outside in. Therefore, the team turned its sights to the 25th and 75th percentiles of intensity within the pixel distribution, thinking that these percentiles may reflect the portions of least and greatest damage. They found that the 25th percentile was most sensitive to change in PD-weighted images. So they focused on this measure, called nPD25, as the most promising for monitoring lesion repair.
Using statistical analysis, the team found that for nPD25 to be useful in clinical trials, lesions must be at least 15 mm3 in volume with approximately nine participants per arm, and participants must be followed for at least 6 months. In such a scenario, nPD25 should be able to detect effect sizes as low as 20% with 90% statistical power.
"If we're going to move into an era of drugs that target those repair processes, then we need to know how to rapidly test those drugs for efficacy in human trials," lead author Daniel Reich, M.D., Ph.D., of the National Institute of Neurological Disorders and Stroke told MSDF. Reich is a member of MSDF's scientific advisory board.
Three hurdles
"These are very easy metrics to acquire in a clinical trial and if it can be done very quickly it can be very helpful," Roland Henry, Ph.D., of the University of California, San Francisco, told MSDF. "But there are probably three major limitations to making that leap."
The first is that the small cohort of patients the team followed had particularly active lesions. Most patients in clinical trials don't have such active lesions, Henry said: "You can draw conclusions about this very active group, but it's hard to generalize."
The second concern is that perhaps the researchers are just picking up changes in inflammation and not tissue repair. "You want [a measure] sensitive to myelin and axons," Henry said. PD-weighted images, he explained, are sensitive to water molecules, and water is a marker of inflammation in the brain.
"That's clearly a concern and something we've thought about," Reich said. "But what that reflects is thinking about the problem in the traditional way, which is, 'How do I find a biomarker for repairing myelin or tissue damage?' "
"Instead we were trying to ask the question, 'If a drug had a remyelinating effect or a tissue-protecting effect, then what should happen to the MRI?' " In other words, if a clinical trial examines a potential remyelinating agent and sees no change in the lesions using Reich's technique, then in theory it could be definitively ruled out.
Henry also noticed that the team spent more time acquiring some images than others. Taking more time to acquire an image can increase the signal-to-noise ratio, and that sparked his third concern. "If you're going to spend 12 minutes or so on an imaging protocol, then you should spend 12 minutes on each technique," he said.
"In principle I think it's a clever idea. I think it's something really worth looking at," Henry said.
"It's a really interesting approach, because it's simply based on conventional MR sequences," Mara Rocca, M.D., of the Institute of Experimental Neurology at Scientific Institute and University Hospital San Raffaele in Italy told MSDF. Rocca said that she was also unconvinced of its effectiveness at this point. She said she was most interested to see the techniques tested in a larger cohort and in the context of treatment.
"We are extremely eager not only to test this ourselves but to see many people—drug companies, other academic investigators—test models like this," Reich said. "Because this question, 'Can we promote repair or protect tissue?' is an absolutely critical question in multiple sclerosis therapeutics."
Key open questions
How will this technique translate into practical use in patients with a more typical disease phenotype?
How important is it to have a measure sensitive to myelin and axons but independent of inflammation? Is such a measure even possible?
Disclosures and sources of funding  
Research was supported by the Intramural Research Program of the National Institute of Neurological Disorders and Stroke and the Myelin Repair Foundation.
Henry reported no conflicts of interest.
Rocca has received honoraria from Novartis and Serono Symposia International Foundation.
DOI:
doi/10.7493/msdf.10.16710.1