Damage to Strategic Brain Regions May Explain Fatigue in MS
Atrophy in the right anterior thalamic radiation, the right inferior temporal gyrus, and several other specific brain regions is linked to fatigue in persons with multiple sclerosis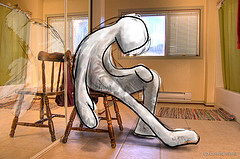 Microstructural abnormalities and atrophy of white and gray matter (GM) in strategic brain regions are linked to fatigue in persons with multiple sclerosis (MS), whereas global brain damage is not, according to findings of a cross-sectional MRI study reported June 14 in Radiology (Rocca et al., 2014).
"Fatigue is one of the most frequent and disabling symptoms in [MS], independently of the clinical form and stage of the disease," senior author Massimo Filippi, M.D., told MSDF. "Although the clinical aspects are relatively well characterized, the physiopathology of fatigue in MS is not well understood." Filippi is a professor of neurology and director of the Neuroimaging Research Unit, INSPE, Division of Neuroscience, San Raffaele Scientific Institute and Vita-Salute San Raffaele University in Milan, Italy.
The study goals were to combine different MR modalities and advanced methods of analysis to assess 1) the role of lesions in normal-appearing white matter (NAWM) and GM damage; 2) the contribution of global versus regional damage; and 3) the importance of atrophy versus microstructural abnormalities to the pathogenesis of fatigue in MS.
"This comprehensive evaluation of various aspects of brain damage from MS suggests that fatigue is linked to the involvement of specific brain regions rather than a consequence of the overall burden of the disease," Franz Fazekas, M.D., a professor and chair of neurology at the Medical University of Graz in Austria, told MDSF when asked for independent comment. "This strengthens the concept of fatigue as a distinct cerebral disorder."
The investigators compared dual-echo, double inversion-recovery, high-resolution T1-weighted and diffusion-tensor (DT) MRI findings in 31 persons with fatigue and MS, in 32 persons with MS but without fatigue, and in 35 control subjects.
Persons with MS with or without fatigue did not differ in terms of lesion volume on T2- and T1-weighted images or in DT MR measures of global damage to brain, white matter (WM), and GM. Differences between persons with MS and fatigue, compared with persons with MS but without fatigue, and with control subjects were atrophy in specific strategic regions.
"Damage to strategic brain [WM] tracts and [GM] regions, in terms of microstructural abnormalities and atrophy, contributes to the pathogenesis of fatigue in MS, whereas global lesional, [WM] and [GM] damage does not seem to have a significant role," Filippi said.
Regions linked to fatigue in MS
For the right side of the accumbens, mean volume was 0.37 ± 0.09 mL in control subjects; 0.39 ± 0.1 mL in persons with MS but without fatigue; and 0.33 ± 0.09 mL in persons with MS and fatigue (P < 0.01).
Other key regions showing atrophy in persons with MS and fatigue were the right inferior temporal gyrus (ITG; P < 0.05, family-wise error corrected), the left superior frontal gyrus, and the forceps major (P < 0.001, uncorrected). Compared with control subjects and with persons with MS but without fatigue, those with MS and fatigue had lower fractional anisotropy (FA) values of the forceps major, the left inferior fronto-occipital fasciculus, and the right anterior thalamic radiation (ATR) (P < 0.01, uncorrected).
Persons with MS and fatigue had more lesions on T2-weighted images in the right ATR than did persons with MS but without fatigue (P < 0.01, uncorrected).
"This study provides an important step in the right direction to improving our understanding of why some people with MS experience greater levels of fatigue than others," Nils Muhlert, Ph.D., Wellcome Trust ISSF Research Fellow in Psychology at Cardiff University in the U.K., told MDSF after reviewing the study findings. "Previous studies had found that specific circuits in the brain—particularly those connecting the front of the brain with the deep gray matter—were involved. … [Using] a robust analysis pipeline, [this study showed] that regional damage is more closely linked to the prevalence of fatigue than general features."
Covariates independently associated with fatigue, as determined in a multivariable model, were right ITG atrophy (odds ratio [OR], 0.83; 95% confidence interval [CI]: 0.82-0.97; P = 0.009) and right ATR FA (odds ratio, 0.74; 95% CI: 0.61-0.90; P = 0.003; C statistic, 0.85). The multivariable model controlled for age, sex, and a measure of head size.
"A loss of [GM] volume in the right [ITG] and of structural integrity in the right [ATR] were significant statistical predictors of fatigue, explaining 85% of the variance in whether someone experienced fatigue or not," Muhlert said.
Multimodal MRI may help assess fatigue
"In this study, we showed that a multiparametric MR approach may explain properly this disabling symptom … and may represent a valid instrument to monitor its progression and the effects of therapeutic interventions," Filippi said.
The findings from T2-weighted images support the central nervous system origin of fatigue in MS by showing that it is associated with regional damage to specific brain areas, in terms of WM microstructural abnormalities and GM and WM atrophy.
Fazekas recommended increased efforts to better define "fatigue" in clinical terms and possibly in the context of MRI findings, which should also open new avenues to evaluate treatment strategies in a more specific manner.
Integrated measures of regional atrophy and microstructural NAWM damage contributed to explain 85% of the presence of fatigue in MS. Therefore, using a single MR technique would not suffice to explain this symptom completely or to monitor its progression and the effects of therapeutic interventions.
"Fatigue is a common and troublesome symptom in MS, which can notably compromise daily-life activities and impaired quality of life," Filippi said. "During the last decade, a large effort has been devoted to achieve a better understanding of the pathophysiology of MS-related fatigue with the ultimate goal of developing effective treatment. However, the majority of the available studies of fatigue in MS has analyzed a single or a few central nervous system compartments leading to inconclusive and somewhat conflicting results." 
Limitations of the present study include cross-sectional design precluding determination of causality and inclusion of persons with relapsing-remitting and secondary progressive MS.
"As a consequence, we cannot define whether our findings were specific to these phenotypes of the disease, or, conversely, generalizable to all MS forms and whether there is a reciprocal modulation of structural and functional abnormalities," Filippi concluded. "Longitudinal studies, including patients with the main MS clinical phenotypes and integrating functional and structural modalities, are now warranted."
Fazekas also noted the need for further cross-sectional studies in an independent sample of persons with MS, as well as longitudinal studies, to confirm these findings and conclusions.
"Strengths of this study come from the careful selection of patients and the comprehensive evaluation of several MRI metrics with extremely refined analysis techniques to generate a rather global disease model," he said. "The importance of suggested strategic brain regions for developing fatigue could be also tested in other focal brain diseases like stroke or brain trauma."
Other study strengths noted by Muhlert include use of "particularly impressive" imaging pipelines; marking and filling lesions on the structural MRI scan to reduce any effects they may have on segmentation or atrophy measures; use of several imaging methods to gain converging evidence about the underlying pathology; relatively large sample size; and use of a multivariable model to find the MRI variables that best characterize fatigued patients with MS.
However, he explained that changes in GM volume do not necessarily reflect functional changes in those regions.
"Use of functional or metabolic imaging sequences, such as BOLD fMRI or magnetic resonance spectroscopy, may have revealed changes in regions that look otherwise normal," Muhlert concluded. "It would be of great interest to examine whether early changes in the regions identified in this work (the right ITG and right ATR) predict later emergence of fatigue. Gaining insight into these early markers may lead to targeted interventions to prevent or minimize this disabling symptom of MS."
Key open questions
How would longitudinal studies of multiparametric MRI analysis improve our understanding of development of fatigue in MS?
How could multiparametric MRI analysis be used to identify persons with MS who are at risk of developing fatigue in MS and to monitor response to therapy?
How do findings of multiparametric MRI analysis differ in persons with different subtypes of MS?
Disclosures and sources of funding
The Italian Ministry of Health supported this study. Some of the study authors reported various financial disclosures involving Novartis, Serono Symposia International Foundation, Teva, Sanofi, Genzyme, Merck Serono, Biogen, Bayer, Actelion, Almirall, Geneuro, Chugai, Receptos, Bayer Schering Pharma, and/or Biogen Idec.
Drs. Fazekas and Muhlert reported having no pertinent financial disclosures.
DOI:
doi/10.7493/msdf.10.12108.1