A Better Interferon?
Subcutaneous injections of pegylated interferon β-1a once every 2 weeks may improve recovery from relapses and increase the likelihood of freedom from measurable disease activity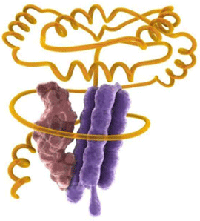 Pegylated interferon β-1a (PEG-IFN) continues to show benefits similar to other currently available treatments for multiple sclerosis (MS), according to data presented at the 2014 American Academy of Neurology (AAN) meeting in Philadelphia. Pegylation involves the covalent attachment of a polyethylene glycol (PEG) molecule to a compound as a means of reducing its immunogenicity and increasing its stability, solubility, half-life, and efficacy. 
In July 2013, MSDF reported preliminary data from the first year of the phase 3 ADVANCE trial of PEG-IFN (Reuss, 2013). These results showed that intravenous administration of 125 µg of PEG-IFN either once every 2 weeks (Q2W) or once every 4 weeks (Q4W) reduced disability progression by 38% in both dosing arms as measured by the Expanded Disability Status Scale. It also reduced annualized relapse rate by 36% (Q2W) and 28% (Q4W).
In Philadelphia, Peter Calabresi, M.D., of Johns Hopkins University presented 2-year clinical efficacy and safety data from ADVANCE. These results support maintained benefits of PEG-IFN Q2W or Q4W beyond 1 year, with the Q2W dosing regimen showing greater efficacy across all endpoints. In addition, immunogenicity appears to be extremely low, Calabresi said.
Two other post hoc analyses of ADVANCE data explored other, less commonly used outcome measures that may better represent efficacy in MS drug trials. For example, Bernd Kieseier, M.D., of Heinrich Heine University in Düsseldorf, Germany, presented an analysis that asked whether PEG-IFN improves recovery following relapses. According to Kieseier, reduction in annualized relapse rate alone may not explain the reduced risk of disability, since about half of patients experience disability progression without associated relapses. By comparing those with disability progression who did or did not have relapses, this analysis showed that, in comparison to placebo, significantly fewer patients taking PEG-IFN had disability resulting from incomplete recovery from relapse; and that following a relapse, fewer patients receiving PEG-IFN had sustained disability progression—30% reduced risk of progression in those taking the drug every 2 weeks, and 22% in those taking the drug every 4 weeks.   
In the other post hoc analysis, Douglas Arnold, M.D., of the Montreal Neurological Institute at McGill University assessed a relatively new measure of therapeutic response: freedom from measured disease activity, or FMDA (also called no evidence of disease activity, or NEDA) (Havrdova et al., 2010). "In the current environment of drug development, it's becoming less and less acceptable to accept partially effective therapies," Arnold said during his platform presentation.
Arnold tested three subtypes of FMDA: clinical FMDA, in which patients experience no relapses and no sustained accumulation of disability at 12 weeks; MRI FMDA, in which MR studies show an absence of gadolinium-enhancing lesions and no new or enlarging T2 lesions; and the composite of these two, called overall FMDA. Only patients with complete data were included in these FMDA analyses. Compared to placebo, significantly higher proportions of patients receiving PEG-IFN both every 2 weeks and every 4 weeks had overall, clinical, and MRI FMDA. At week 48, 33.9% of patients in the Q2W treatment group achieved overall FMDA, compared to 21.5% in the Q4W group and 15.1% of those receiving placebo.
"I think FMDA is a very attractive endpoint," Arnold concluded. "Why should we settle for incomplete control of a focal inflammatory disease when we know the lesions are associated with axonal transection and irreversible brain damage, which accumulates even if the disease is asymptomatic?"
Key open questions
How does PEG-IFN compare, in head-to-head testing, with other MS therapies in terms of clinical outcomes, adverse effects, and FMDA?
How does FMDA correlate with patient-reported assessments of benefit?
Disclosures and sources of funding
These studies were sponsored by Biogen Idec Inc. Dr. Calabresi has received personal compensation for activities with Biogen Idec, Teva Neuroscience, Genzyme Corporation, Vaccinex, Vertex, and Novartis; and research support from the National Institutes of Health, the National Multiple Sclerosis Society, Nancy Davis Foundation, Biogen Idec, Vertex, Genentech Inc., Abbott, and Bayer.Dr. Arnold has received personal compensation for activities with Acorda Therapeutics, Bayer Pharmaceuticals Corporation, Biogen Idec, Coronado Biosciences, EMD Serono, Genentech Inc., Genzyme Corporation, GlaxoSmithKline Inc., MedImmune, and NeuroRx Research. Dr. Arnold has received research support from Bayer Pharmaceuticals Corporation.
Dr. Kieseier has received personal compensation for activities with Bayer Pharmaceuticals Corp., Schering AG, Biogen Idec, Merck Serono, Novartis, Roche Diagnostics Corp., Sanofi-Aventis Pharmaceuticals Inc., and Teva Neuroscience. Dr. Kieseier has received research support from Bayer Schering, Biogen Idec, Merck Serono, and Teva Neuroscience. Co-authors Drs. Sheikh, Deykin, Zhu, Sperling, Hung, and You have received personal compensation for activities with Biogen Idec as an employee. Co-author Dr. Scott has received personal compensation for activities with Novartis, Biogen Idec, Teva Neuroscience, and Genzyme Corp., and research support from the Pittsburgh Foundation. Dr. Newsome has received personal compensation for activities with Biogen Idec and Genzyme Corp.
DOI:
doi/10.7493/msdf.10.12097.1