Incomplete B-Cell Depletion Linked to Fewer MRI Lesions
In a dose-ranging study of the anti-CD20 antibody ofatumumab, even incomplete depletion of peripheral B cells was associated with a reduced number of MRI brain lesions in patients with RRMS
When treating relapsing-remitting multiple sclerosis (RRMS) patients with anti-B cell antibodies, complete depletion of B cells is not necessary to achieve a reduction in MRI lesions, according to data presented at the annual meeting of the American Academy of Neurology in Philadelphia. 
Daren Austin, Ph.D., a clinical pharmacologist at GlaxoSmithKline (GSK), and colleagues studied the pharmacological and clinical effects of the drug ofatumumab, which targets CD20 on B cells. Ofatumumab is a human monoclonal antibody that is approved as a treatment for patients with chronic lymphocytic leukemia.
Interest in anti-B cell therapies for MS has been growing since 2008, when Stephen Hauser and colleagues showed that another anti-CD20 agent, the anticancer monoclonal antibody rituximab (Rituxan, Genentech and Biogen Idec), reduced the numbers of both relapses and gadolinium-enhancing lesions on MRI (see Hauser et al., 2008, and "The Many Faces of B Cells").
The data Austin presented was part of the larger MIRROR study, a phase 2b dose-ranging study to assess efficacy and safety of subcutaneous ofatumumab in RRMS patients. Subcutaneous rather than intravenous administration was possible because dramatically lower doses of drug were tested. One potential advantage of subcutaneous dosing is that the drug gets held up in the lymphatic system and is released slowly, which could improve tolerability. It also allows for self-administration.
Two hundred thirty-two subjects were randomized to a placebo group or one of four treatment groups with total doses ranging from 3 mg to 180 mg over a period of 24 weeks. B cells were counted at baseline and then every 4 weeks for 48 weeks. "The question for this study was to see how low a dose and how infrequent could we give the drug and still maintain some degree of efficacy," said Austin in an interview with MSDF. "What we showed is that we see some efficacy even in the lowest treated group, with a single 3-mg dose, where their B cells depleted to about 75% of baseline."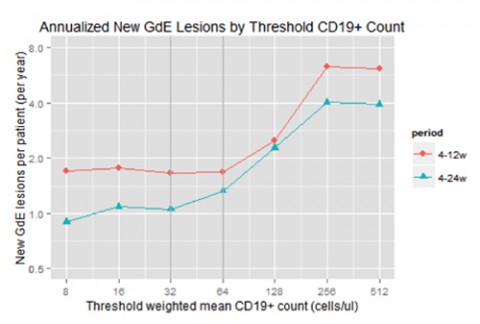 By correlating these B-cell counts to MRI findings, the team was able to show the dose needed to prevent clinical progression. "We showed that above a cumulative dose of 60 mg, you don't have any more efficacy; you're sort of plateaued out of how good you can make the drug," said Susan VanMeter, M.D., also of GSK. The data revealed a threshold of about 32 to 64 cells per μL, below which there was little improvement in MRI lesion activity. 
"So we've got the pharmacology, which we've modulated, and we've got the efficacy surrogate, which was MRI lesions. And what we've done in this analysis was to link the two together to see how much modulation of pharmacology gives you how much clinical benefit," Austin said. "It's very exciting to know that you don't have to completely decimate part of your immune system to have a positive effect."
Austin added that almost no drug appears to get into the brain, suggesting that it acts peripherally, which could explain why such low doses were effective. "Antibodies really struggle to penetrate the blood-brain barrier, so you have to give very large doses if the drug has to hit its target in the CNS."
Key open questions
How do different dosing regimens affect clinical scores, including relapse rates, disability, and progression of disability?
Are certain subsets of B cells depleted to a greater extent than others, and what does that mean in terms of progression of lesions?
What are the potential benefits or drawbacks to incomplete depletion of B cells?
Disclosures and sources of funding  
This study was supported by GlaxoSmithKline, Inc. Drs. Austin, Freedman, Grove, Tolson, and VanMeter have received personal compensation for activities with GlaxoSmithKline Inc. as employees. Dr. VanMeter holds stock in GlaxoSmithKline Inc. Dr. VanMeter has received research support from GlaxoSmithKline Inc.
DOI:
doi/10.7493/msdf.10.11253.1