Hematopoietic Stem Cell Transplant in MS: Third Study Reports Positive Results
Researchers in Italy released results from a randomized, controlled, multicenter phase 2 trial of autologous hematopoietic stem cell transplantation. Their regimen led to significant reduction in T2-weighted lesions and annualized relapse rate.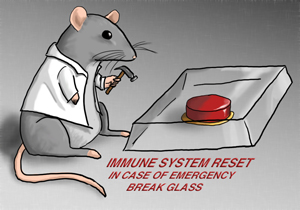 The battle of the conditioning regimens rages on as yet another article boasting successful results from a phase 2 trial of autologous hematopoietic stem cell transplantation (AHSCT) is published today.
This randomized, controlled, multicenter trial, conducted by a group of physicians based in Italy, tested a highly intense conditioning regimen followed by AHSCT compared to the immunosuppressant mitoxantrone (MTX; Novantrone, EMD Serono) in 21 MS patients (Mancardi et al., 2015). Nine patients were assigned to the AHSCT group [two relapsing-remitting (RR), three secondary progressive (SP), four secondary progressive with relapses], and the remaining 12 fell into the MTX-treated group (five RR, three SP, three SP with relapses, and one relapsing-progressive).
Patients undergoing AHSCT were given 4 g/m2 of cyclophosphamide for one day and 5 μg/kg body weight of filgrastim until the team finished harvesting the peripheral hematopoietic stem cells. They used a high-dose chemotherapy conditioning regimen called BEAM, commonly used in treating patients with Hodgkin's lymphoma, to ready the patients for transplant. Patients in the MTX arm received an intravenous dose of 20 mg mitoxantrone and 1 g of methylprednisolone diluted in 250 mL 0.9 saline once a month for 6 months.
Using an intention-to-treat analysis, the team found that patients who underwent AHSCT had a median of 2.5 (mean 2.75, range 0-8) new T2-weighted lesions on MRI scans compared to a median of 8 (mean 12.75, range 2-34) in MTX-treated patients (rate ratio = 0.21, 95% CI 0.10–0.48, p = 0.00016). However, due to technical problems and patient dropout, scans were only obtained from 17 of the 21 patients. The researchers performed best- and worst-case scenario imputation analyses to adjust for the missing MRI data and found that the results were still significant throughout.
AHSCT also outperformed MTX in annualized relapse rate (ARR) over 4 years. ARR was 0.19 for AHSCT patients and 0.6 for MTX patients (rate ratio = 0.36, 95% CI 0.15-0.88, p = 0.026). However, 57% of AHSCT patients demonstrated progression at the end of follow-up, whereas only 48% of MTX patients showed progression. The researchers did not observe any difference in Expanded Disability Status Scale (EDSS) scores between the two treatment arms.
These data suggest that AHSCT is superior to immunosuppression for patients with highly active MS. The conditioning regimen that they used to knock back the immune system in patients before performing the stem cell transplant was also fairly intense, compared to the HALT-MS trial and the Northwestern University trial that MSDF reported on earlier in 2015.
The major strength of this study was that it was randomized and controlled. But the sample size was small and shrunken further by patient dropout. Additionally, the clinical outcomes were somewhat lackluster compared to other trials in AHSCT, particularly compared to the striking reduction in EDSS among patients enrolled in the Northwestern University trial. In a commentary accompanying the article in Neurology, Paolo A. Muraro, M.D., Ph.D., of Imperial College London defended the EDSS results by writing that the study was "clearly underpowered for detecting such differences" (Muraro, 2015).
Muraro also noted that MTX was a bit of an unusual choice for a control treatment because it "would not be a contemporary choice as comparator treatment, having lost traction because of its cardiac toxicity and risk of lymphoma." But MTX was also the most appropriate choice due to its known efficacy in preventing the formation of new T2-weighted lesions, the study's primary outcome measure.
This study fails to settle the controversy over the intensity of the conditioning regimen. Some will likely argue that the regimen was not intense enough and therefore any continuing disease activity arose from remains of the "previous" immune system before the attempted "reset" by the transplant. On the other hand, other studies with less intense conditioning regimens have achieved equally good or better results.
Muraro wrote that phase 3 trials are in the works to test both nonmyeloablative conditioning regimens and regimens of intermediate intensity.
Key open questions
What are the best outcome measures for testing stem cell transplantation?
Should researchers be more focused on MRI measures or clinical outcomes?
What other issues may come up in study design for phase 3 trials?
Disclosures and sources of funding
This study was funded by the Italian Multiple Sclerosis Foundation, grants 2001-R-38 and 2002-R-36.
Some of the authors reported relationships with various companies including Bayer Schering, Biogen Idec, Genmab A/S, Genzyme, Merck Serono, Novartis, Sanofi-Aventis, and Teva Pharmaceuticals.
DOI:
doi/10.7493/msdf.10.16864.1