A Complementary Approach to Treating MS?
A new study bolsters the theory that the complement system drives persistent axon damage during remission. Anticomplement therapies may help.
Mounting evidence suggests that the immune system's ancient complement system plays a role in axon destruction—especially during periods of remission. A recent paper in the open-source journal Acta Neuropathologica Communications lends support to the complement hypothesis (Ingram et al., 2014).
"We know now from our study that there is ubiquitous activation of complement in MS patients," the study's lead author, Gillian Ingram, CRF, of the Institute of Psychological Medicine and Clinical Neuroscience at Cardiff University in the U.K., told MSDF. "And we also know it is pathogenic." In vitro studies have implicated complement in demyelination, both in animal models and in human MS. In complement-deficient experimental autoimmune encephalomyelitis (EAE) rodents, for example, demyelination either doesn't occur or is attenuated. Ingram said that complement-mediated inflammation, demyelination, and axon damage may play a central role in MS progression.
The complement system
The immune system of vertebrate animals consists of both an adaptive system—T cells and B cells that make antibodies, for example—and an innate component that is evolutionarily more ancient and less specific. In vertebrates and other deuterostomes, innate immunity includes a biochemical cascade of some 30 proteins called complement.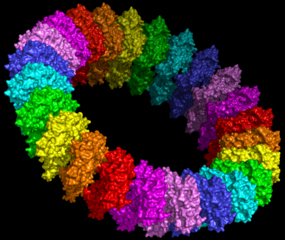 The proteins of the complement—mostly made in the liver and found in blood, other body fluids, and on cell surfaces—do things like repulse attacks by pathogens; clean up debris; and initiate, coordinate, and sustain inflammation. More specifically, complement attracts phagocytic white cells; marks pathogens for destruction (opsonization); and forms membrane attack complexes (MACs)—deadly holes drilled into the membranes of target cells. Once complement proteins form a grommet-like MAC in the cell membrane, the penetrated cell lyses and dies.
Vahid Afshar-Kharghan, M.D., of the University of Texas MD Anderson Cancer Center in Houston—who is not connected with Ingram's study—explained to MSDF that complement is well known for helping to fight infections. But complement does many other things, he said, including mediating cell-cell interactions: "For example, antigen-presenting cells use a lot of complement proteins to talk to one another." Likewise, complement proteins are involved in the rejection of transplanted organs, tumor growth, and cell chemotaxis. Complement proteins even play a role in early development, guiding cell migration during organogenesis.
It's easy to think of MS as a disease of dysregulated T cells initiating attacks on CNS myelin and myelin-producing oligodendrocytes during periods of relapse. It's clear, however, that there's more to MS than relapse and T cells: Axon loss, B cell involvement, and activated microglia all point to a more complex process.
MS and its animal model, EAE, are both characterized by a massive infiltration of the brain and spinal cord with an unruly mix of immune system mediators, including lymphocytes, macrophages, microglia, cytokines, chemokines, antibodies—and, of course, complement. Some or all of these cause severe damage to the myelin, oligodendrocytes, and axons. This damage manifests as plaques.
The study
Ingram and colleagues at Cardiff University in Wales compared complement expression in samples from plaques in the cerebral cortex and spinal cord of 17 deceased progressive MS patients with tissue samples from 16 controls: nine deceased persons with a neurodegenerative disease that was not MS (the neurological controls, designated NC) and seven deceased persons not diagnosed with any neurodegenerative disease (the non-neurological controls, designated C).
T cells were nearly absent from MS plaques. But complement showed up in plaques, both active and inactive. Once nerve damage begins, the study's authors wrote, inflammation can continue, driven by complement as well as other innate immune mechanisms.
MS plaques immunolabeled for 13 different complement proteins consistently expressed complement more intensely than did tissue samples from non-neurological controls. For example, MS plaques labeled with C1q—the first subcomponent of a major biochemical pathway that activates complement—showed 300 cells/mm2. In contrast, controls measured around 10 cells/mm2. In MS tissues, C1q staining was universal, and in most cases tissues revealed terminal complement complex (TCC) activity, indicating that the complement cascade had continued all the way to completion.
NC samples were another story. In these controls—which came from subjects with different neurodegenerative diseases such as Alzheimer's—complement protein labeling was elevated. For example, C1q was significantly higher in MS tissue than in NC controls, but the NC controls still had relatively high levels of C1q, about two-thirds the level in MS tissues.
Ingram's co-author, B. Paul Morgan, previously reported that both demyelination and axonal destruction required activation of the complement cascade, including the formation of MACs. When MACs couldn't form, demyelination didn't occur. In other words, both complement generally and MACs specifically have been implicated in MS demyelination and axon destruction.
Historically, complement was viewed as playing a mere supporting role, "complementing" other more central parts of the immune system. But complement is now viewed as more of a conductor, orchestrating adaptive immunity and inflammation.
Because complement is so powerful, it's extremely dangerous to the body's own tissues and its expression is tightly regulated. High concentrations of "complement control proteins," in the blood and on cell surfaces, interfere with both general activation and downstream MAC attacks, preventing complement from cascading out of control. The tight regulation of complement is analogous to that in the clotting system.
The complement cascade can be activated by any of three major initial pathways: the classical (C1), alternative, and lectin pathways. (Each initial pathway leads inexorably to some variant of C3-convertase, the protease that in turn triggers a cascade of activation.)
Axonal degeneration and rescue
Ingram suggested that more attention has been paid to the relapsing phase of MS, even though disease progression and axonal degeneration continue between relapses. At any given moment, the majority of the MS population is progressing but not necessarily relapsing. "If we can find a therapy to halt axonal degeneration," Ingram said, "this will [help] a lot of patients who have primary progressive MS. They never get the relapses, and so for them there's no therapy at all. … Such patients have nothing really."
Only when we understand what causes axonal degeneration will we be able to halt that process, Ingram said: "If you stop inflammation, axons can recover. And the more quickly you dampen down inflammation, the better the chance of recovery."
Ingram's paper demonstrates that complement proteins and activation products are a consistent feature of damaged tissues from patients with long-established, progressive MS.
Anticomplement therapies
The elevation of C1q in MS patient plaques in the study suggested that MS activates the classical pathway and raised the possibility that complement might be a treatment target. Indeed, a C1 inhibitor, which binds to and inhibits the classical pathway, is already approved for heart attack and hereditary angioedema (a disease in which a genetic deficiency of functioning C1 inhibitor leads to overactivation of complement).
In recent years, anticomplement therapies have emerged as a way to treat a handful of medical conditions known to be mediated by inflammation. One example is paroxysmal nocturnal hemoglobinuria (PNH), a rare disease in which the complement destroys red blood cells. Patients with PNH are treated with the anticomplement eculizumab, a monoclonal IgG antibody that neutralizes the downstream complement protein C5 and prevents the formation of the cell-destroying MAC ring of death.
To date, Ingram said, anticomplement therapies have never been used in MS patients. But anticomplement therapy has been approved for use in neuromyelitis optica (NMO), a distinct but nonetheless similar demyelinating condition that affects the optic nerve and spinal cord and sometimes the brain as well.
Afshar-Kharghan expressed enthusiasm for NMO as a model for treating MS, noting that "Anticomplement therapy has been tried in NMO with some success" and recommending a paper by Sean Pittock, M.D. (Pittock et al., 2013). For one year, Pittock treated 14 NMO patients with the MAC-inhibiting drug eculizumab and reported that the median number of relapse attacks dropped from three to less than one, and 12 of the 14 patients were relapse-free.
Afshar-Kharghan went on to describe the safety of anticomplement therapy. "Anticomplement therapies are very safe compared to something like chemotherapy. The big concern is if you inhibit the complement you can get infections, especially meningococcus." In that case, he said, "what they do is vaccinate the patient a few weeks before starting treatment. It's a very minor concern. I would say [complement] is a relatively safe therapy."
Cause or effect?
Although complement is known to damage tissues, it's not completely clear yet whether complement is a primary cause of axonal damage or merely a marker. Afshar-Kharghan generally responded very positively to the Ingram paper. "I think this is a really good way to start," he said. But he hesitated to say it was definitive. "I think it's a little difficult to say whether the complement is causing the damage or whether dying cells are attracting complement. Sometimes complement [shows up] to clear dead cells. I don't think this [paper] is definitive."
Drawing attention to the data presented in two of the paper's figures, Afshar-Kharghan told MSDF, "There's not a lot of difference between MS and NC [the neurological controls]. That's a little bit of a red flag. If it's really MS-specific, you would expect a big difference between MS and NC. For C4d, FBb, C3b, and TCC, the differences [in expression] between MS and the neurological controls are really minute. And besides that, complement regulator was also elevated in those patients."
Nonetheless, Afshar-Kharghan said that if he had a refractory MS patient, he would consider trying anticomplement therapy.
Ingram is already in conversations about clinical trials of an anticomplement therapy. But "we need to keep in mind that this would be in addition to treatments that suppress T cells," not instead of.
Key open questions
Should anticomplement therapy be tried in patients with progressive MS?
What are the arguments for (or against) further exploring the biology of complement-mediated axon damage before moving to clinical trials?
Disclosures and sources of funding
Gillian Ingram and Vahid Afshar-Kharghan report no conflicts of interest. B. Paul Morgan is a consultant for GlaxoSmithKline and Claire L. Harris is employed part-time for GSK Study. Funding from Multiple Sclerosis Society (UK) [grant number 884/08] Alzheimer's Society Project Grant [N104]. 
DOI:
doi/10.7493/msdf.10.11879.1