PPMS: Predictors of Disease Progression Still Unknown
Failure to find reliable progression predictors makes individualized risk counseling difficult, highlights the shortcomings of the EDSS, and may complicate future PPMS clinical trials
None of the variables analyzed in a large cohort of patients with primary-progressive multiple sclerosis (PPMS) predicted disease progression measured by yearly change in Expanded Disability Status Scale (EDSS). Findings from this systematic literature review and analysis are published in the March issue of PLOS ONE (Stellmann et al., 2014).
"New agents with neuroprotective or neuroregenerative potential might be explored in [PPMS]—the MS disease course with leading neurodegenerative pathology," wrote Jan-Patrick Stellmann of the Institute for Neuroimmunology and Clinical MS Research at University Medical Center Hamburg-Eppendorf in Germany and colleagues. "Identification of patients with a high short-term risk for progression may minimize study duration and sample size. Cohort studies reported several variables as predictors of EDSS disability progression but findings were partially contradictory."
The study goal was to evaluate the effect of published predictors on PPMS disease progression, as reflected in annualized EDSS change, using a large cohort of persons with PPMS. The investigators identified alleged predictors for disease progression in PPMS from their systematic literature review and analysis of heterogeneous data from three prospective and five retrospective natural history cohort studies.
For retrospective validation of the identified predictors (age at onset, sex, type of first symptoms, and early EDSS changes), the investigators pooled individual case data from the Sylvia Lawry Centre and the Hamburg MS patient database.
The pooled cohort consisted of 597 PPMS patients (54% female) with mean age approximately 40 years and mean follow-up of 4.4 years. Based on 2503 EDSS measurements, mean change in EDSS was 0.35 per year. None of the investigated variables were significantly associated with change in EDSS.
"Our study could not validate gender, age at onset, type of first symptoms or early EDSS-progression as predictive for the EDSS dynamic in PPMS," the study authors wrote. "Prospective cohort data of PPMS are yet very limited. Besides larger cohorts, new outcome measures for progressive MS are needed, as the EDSS seems to be too imprecise to detect disease progression in these patients."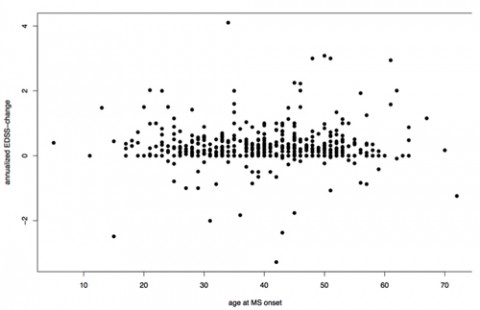 The inability to identify predictors of disease progression in PPMS may also relate to limitations inherent in the EDSS. These include very high inter- and intrarater variability and low risk for reaching one of the disability landmarks in the short term. In addition, EDSS landmarks primarily reflect mobility restrictions at the expense of other functional systems that could also contribute significantly to disability. Other limitations of this study include its retrospective design and lack of standardized follow-up.
"Based on these findings, it is not possible to give any recommendations about inclusion criteria for treatment trials in progressive MS nor [do] the available data allow an individualized risk counselling," the study authors concluded.
Key open questions
What clinical predictors of PPMS progression might be identified from prospective cohort data?
Would neuroimaging and/or biological markers be more effective as clinical predictors of PPMS progression?
Disclosures and sources of funding
The NEU2 consortium, which is supported by Germany's Federal Ministry of Education and Research, funded this study. Dr. Stellmann reported various financial disclosures involving Merck Serono, Biogen Idec, Teva, Sanofi-Aventis, and Bayer Schering. A. Neuhaus reports no conflicts of interest. Another study author (M. Daumer) is the Scientific Director of the Sylvia Lawry Centre for Multiple Sclerosis Research e.V. and Managing Director of Trium Analysis Online GmbH, serves on the Editorial Board of MedNous and holds various relevant patents. The Sylvia Lawry Centre received honoraria from Krog & Partners Incorporated, GlaxoSmithKline, Biopartners, Biogen Idec, Bayer Schering, Heron Evidence Development Ltd., Hoffmann-La Roche, Johnson & Johnson Pharmaceutical Research & Development LLC, Sanofi-Aventis U.S. Inc., Biogen, University of Oxford, Imperial College London, University of Southampton, Charite Berlin, University of Vienna, Greencoat Ltd., and University Medical Center Hamburg-Eppendorf. He serves on the advisory board for the EPOSA study and received research grants from the Federal Ministry of Education and Research, Federal Ministry of Economy, Porticus Foundation, and the Hertie Foundation. A third study author reports study, travel, and educational grants from Merck Serono, Biogen Idec, Teva, Sanofi-Aventis, and Bayer Schering.
DOI:
doi/10.7493/msdf.10.10401.1