Oral Cannabinoid Dronabinol Doesn't Modify Disease in Progressive MS
Randomized controlled trial concluded that dronabinol, an oral cannabinoid, had no effect on the course of progressive MS
Administration of the oral cannabinoid dronabinol appears to have no overall effect on the course of progressive multiple sclerosis, according to results of a randomized trial of nearly 500 patients (Zajicek et al., 2013). The study was published online July 13 in The Lancet.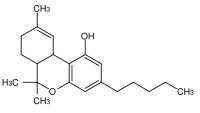 "Results of previous studies have provided some evidence for a symptomatic benefit from this group of drugs, but none has previously explored a potential role in disease modification," wrote John Zajicek, Ph.D., of Plymouth University Peninsula Schools of Medicine and Dentistry in Plymouth, U.K., along with colleagues.
The researchers devised a multicenter, randomized, double-blind trial that assessed treatment with dronabinol versus placebo in 493 patients with primary or secondary progressive multiple sclerosis. Patients were recruited from 27 neurology or rehabilitation centers and ranged in age from 18 to 65 years.
The investigators randomized subjects 2:1 to receive either oral dronabinol, maximum dose 28 mg per day, titrated to account for body weight and adverse effects, or placebo. The study lasted for 36 months.
The primary endpoints were time to Expanded Disability Status Scale score progression of at least 1 point from a baseline EDSS score of 4.0-5.0 or at least 0.5 points from baseline and change from baseline to end of study in the physical impact subscale of the 29-item MS impact scale (MSIS-29-PHYS).
The investigators reported that, overall, both groups experienced lower rates of progression than expected. Of the 329 patients who received dronabinol, 145 had EDSS score progression (0.24 first progression events per patient-year; crude rate) compared with 73 of 164 patients in the placebo group (0.23 first progression events per patient-year; crude rate).
Hazard ratio for prespecified primary analysis was 0.92, the researchers reported. Mean yearly change in MSIS-29-PHYS score was 0.62 points in patients taking dronabinol versus 1.03 points in patients taking placebo. 
The researchers used a multilevel model for primary analysis, and they said that assessment showed an estimated between-group difference, dronabinol versus placebo, of –0.9 points.
As to safety, the researchers said 35% of patients in the dronabinol group experienced at least one serious adverse event during the study period. That was compared with 28% in the placebo group.
"The findings have implications for the design of future studies of progressive multiple sclerosis," the researchers concluded, "because lower than expected progression rates might have affected our ability to detect clinical change."
In comments accompanying the study, Olaf Stuve, M.D., of the University of Texas Southwestern Medical Center in Dallas and Friedemann Paul, M.D., of the Technical University of Munich, Germany, said the results of the trial should not discourage future trials involving patients with progressive MS. 
"Instead," they wrote, "important challenges need to be addressed: experimental models are urgently needed that better represent progressive multiple sclerosis; adaptive trial designs are needed, in which interventions can be changed during the course of the study as indicated by predefined outcomes, to allow optimal doses of study drugs to be identified; and finally, neurologists and neuroscientists need to gain a better understanding of meaningful clinical and paraclinical outcomes in patients with progressive multiple sclerosis."       
Key open questions
Why were lower-than-expected progression rates seen in both groups of patients, those taking dronabinol as well as those taking placebo?
Why did therapeutic intervention with dronabinol fail to achieve an overall favorable response?
Disclosures
The authors have disclosed no relevant conflicts of interest. Editorialist Dr. Stuve has received research funding from Teva Pharmaceuticals. Editorialist Dr. Paul has received travel support and speaker honoraria from Bayer Healthcare, Novartis, Teva, Biogen Idec, Sanofi Aventis, and Merck Serono.
DOI:
doi/10.7493/msdf.10.6843.1