Dorsiflexion Assist Orthosis Helps MSers Walk
Researchers in Australia recently tested the dorsiflexion assist orthosis, better known as the Foot-Up, in a randomized crossover trial. They found that the device helped improve strength and reduce the physiological cost of walking, but that patients still felt as fatigued as they did without the device.
Progressive physical disability is a grim reality for people living with multiple sclerosis. While many researchers and physicians are racing for a cure, others are focusing on how to make MSers' lives better and more functional in the here and now.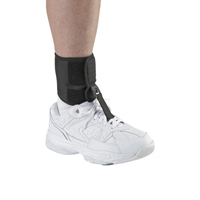 Recently, a team of researchers in Australia put a popular walking aid to the test. The aid, called the dorsiflexion assist orthosis (DAO, brand name Foot-Up, Össur) is made of a flexible material that attaches around the ankle. From the front (anterior) side of the ankle brace, an elastic tether extends toward the top of the shoe, to help keep the toes up while walking. It aids the ankle dorsiflexor muscles, which normally lift the front of the foot, to keep the person walking from tripping over his or her own toes.
While people with MS have been using the device for some time, it had yet to be tested in a clinical setting to determine whether it had any measurable effect on people with MS, lead author James McLoughlin, M.Sc., of the University of New South Wales told MSDF in an email.
McLoughlin and his colleagues decided to test the DAO in a randomized crossover trial (McLoughlin et al., 2014). A total of 34 patients were divided into two groups. Both groups had their degree of disability determined using the Expanded Disability Status Scale (mean = 3.7 ± 0.7) and their baseline walking ability measured using the modified 6-minute walking test. The team also determined which leg was weaker in each patient and did tests assessing strength and balance.
Then the participants were split into two groups, one that used the DAO and one that didn't. They underwent the same assessments, came back 2 weeks later, and did them again under the same conditions.
The researchers found no significant difference between the two groups in the distance walked or their perceived fatigue. But participants who wore the DAO experienced less physiological cost of walking as measured by the participants' heart rate during the walking test minus their resting heart rate, all over their walking speed (m/min). Patients using the DAO scored an average of 0.51 ± 0.27 on the physiological cost index, whereas participants not wearing the DAO scored an average of 0.56 ± 0.32 (p = 0.037).
Kurt Jackson, Ph.D., MPT, of the University of Dayton in Ohio told MSDF that he has performed similar studies looking at fatigue and walking in people with MS.
"It seemed like people's perception of fatigue didn't seem to be a good indicator of what's happening physiologically. So it's not surprising to me that their perception of fatigue didn't change," Jackson said in an interview with MSDF.
The device also appeared to improve the strength of the knee extensors and the ankle dorsiflexors in the weaker leg. Additionally, it appeared to help with balance when the elastic strap was disconnected from the shoe. Participants swayed less with both their eyes open and closed when standing still for 30 seconds with their feet together.
However, the researchers did not measure the effect size of any of their outcome measures, Rebecca Larson, Ph.D., of the University of Oklahoma pointed out to MSDF. Effect size would better determine how much the DAO helped the treatment group, as opposed to simply defining it as significantly different from the control group.
Larson also noted that it would be interesting for the researchers to conduct a training test in the future, to see if training with the DAO helped improve scores at all.
"It is important that we look not only at walking distance and speed, which has been the focus of much of the previous research, but must also look to preserve muscle performance and balance when walking longer distances," McLoughlin wrote. "We plan to do research to determine the benefits of wearing the DAO with longer periods of familiarisation and training and we also need to determine what improvements are meaningful to improving the lives of people with MS."
The DAO is one of many aids available to people whose walking ability is impaired, Jackson said. He told MSDF that it's important for physicians to be aware of them and that it's fairly simple to test a patient's walking ability in the clinic.
"Strength is critical and for most populations, especially older adults," Jackson said. "Even with MS one of the biggest predictors of whether you're going to have to be cared for is your lower body strength, especially the big muscles in the hips and thighs."
Key open questions
Even though the DAO reduces the physiological cost of walking, what can be done to help patients' perception of fatigue match their physiology?
What other physical aids could benefit from laboratory testing?
Disclosures and sources of funding  
This study was funded by grants from Multiple Sclerosis Research Australia, grant number 00045, and Foundation Daw Park, Repatriation General Hospital. McLoughlin claimed no conflicts of interest.
Jackson and Larson claimed no conflicts of interest or relevant disclosures.
DOI:
doi/10.7493/msdf.10.15408.1