Is Cognitive MS a Distinct Entity?
A small subset of MSers present with cognitive symptoms as the predominant manifestation of the disease and maintain that symptom throughout the disease's course
About half of patients who receive a diagnosis of multiple sclerosis experience cognitive problems, along with other symptoms, during the course of their disease.
But evidence is emerging that there may be a small subset of MSers who not only present initially with purely cognitive symptoms but for whom cognitive symptoms remain the most significant impairment throughout the course of the disease. In these rare cases, cognitive impairment may, in fact, meet the criteria for dementia.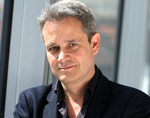 Those patients are the focus of a new case series published in the current edition of Clinical Neurology and Neurosurgery authored by Bruno Stankoff, M.D., Ph.D., along with colleagues (Assouad et al., 2014). Stankoff is a neurologist associated with Assistance Publique des Hôpitaux de Paris, Hôpital Saint-Antoine-Tenon, in Paris, France. He also works as a neurological researcher at Université Pierre et Marie Curie, also in Paris.
In email correspondence with MSDF, Stankoff emphasized that, indeed, cognitive symptoms are common in patients with MS. "However we think that the purely cognitive forms or predominant cognitive forms that we have described in this article, while quite rare, are none the less underestimated," he wrote.
Stankoff and his fellow authors retrospectively identified 18 MSers who had presented with symptoms consistent with what the researchers defined as cognitive-MS (cog-MS). Those defining symptoms included:
An MS diagnosis consistent with established criteria;
Cognitive and/or behavioral symptoms as the primary and predominant manifestation at onset;
Exclusion of other possible causes of cognitive impairment.
Of interest, the researchers said the 18 patients described in this study may be only the tip of the proverbial iceberg. Of MS patients seen at the clinics, nearly four times that number had displayed cog-MS symptoms. However, only those 18 patients had complete medical records suitable for detailed review and thus inclusion in the study.
Of the 18 patients, 14 were women and four were men. Diagnosis occurred a mean of 2.2 years following onset of disease. The authors said the patients' unusual presentation of MS likely played a role in delay of diagnosis. The 18 patients were followed a mean of 5.5 years after initial presentation. Median age at onset was 39 years. 
Common features 
"The disease onset was characterized by cognitive and/or neurobehavioral symptoms which then continued to deteriorate," the authors wrote. They said the most common initial symptoms were memory loss and behavioral changes, manifesting as irritability, aggressiveness, apathy, inertia and loss of interest in daily activities.   
Those symptoms remained prominent throughout the course of follow-up and led to severe cognitive impairment including depression and pathological laughing and/or crying. Urinary incontinence and significant gait disturbance were also common.
Nearly a quarter of the patients (22%) had a first-degree relative with MS, suggesting a possible genetic component to risk of disease.
About half the patients showed MRI evidence of multiple periventricular lesions that were extensive and confluent. Many of the patients also showed signs of severe atrophy, with increases in third ventricular width, compared with healthy controls.
In addition, nearly three-quarters (72%) of the patients had gadolinium-enhancing lesions. That could suggest, said the authors, that deleterious inflammatory factors might be playing a role in deterioration of cognitive function.
A distinct entity?
So should cog-MS be considered a separate clinical entity? 
"It is tempting to speculate that the cog-MS presentation described here might represent a distinct clinical form, with some pathophysiological specificity compared to common MS cases," the authors wrote. But, they emphasized, much more work needs to be done to confirm cog-MS as a definite clinical entity.
Even so, the findings from Stankoff et al. get a considerable number of positive reviews.
One is from Gavin Giovannoni, MBBCh, Ph.D., FRCP, head of academic neurosciences at Barts and The London School of Medicine and Dentistry. Commenting on the study in his blog, "Multiple Sclerosis Research," , he wrote, "I have several patients like this in my clinic, and when you scan them they typically have large lesion loads and gross brain atrophy."
He wrote that in the past such findings had led him to believe patients had been dealing with MS for a long time. Now, however, he's not so sure.
"For example," he wrote, "I look after one patient who had catastrophic disease early in the course of the disease and now has severe cognitive impairment. The latter is despite alemtuzumab treatment having switched off the inflammatory component of the disease (relapses and focal MRI activity)."
MSDF asked another clinician, Rhonda Voskuhl, M.D., for her impressions of the study. "It's very interesting, and raises an issue that has not been rigorously addressed in the past," wrote Voskuhl, who directs the MS program at the University of California, Los Angeles.
"This is an unusual presentation, it seems," she added. "But many of these patients may have been missed early on and thus were never sent to an MS expert when they were more purely cognitive."
She stressed that new treatments are needed that target the neuropathogenesis of cognitive decline in MS. 
Aiming to help fill that need, Voskuhl and her colleagues presented an abstract at the recent ACTRIMS/ECTRIMS meeting, held in Boston (Voskuhl et al., 2014). Using estriol as a biologic supplement in women with relapsing-remitting MS, they found that, compared with placebo, estriol supplementation over a 2-year treatment period was associated with significant improvement in cognitive function, and that those improvements occurred as early as 1 year after initiation of treatment.
Stankoff agrees there's a crucial need for more targeted therapies. "We lack rigorous data about the therapeutic strategy for these forms, as there is no real therapeutic trial in this subtype," he wrote in his email. "And since in many cases the cognitive forms of the disease are associated with a high inflammatory activity in brain lesions, we need to develop specific trials for this. Intensification of treatment may be required at this initial very active stage."
Giovannoni couldn't agree more. He said it's important to realize that MS causes cognitive impairment and is largely driven by gray matter disease that is not visible on routine MRI.
"This is why I am a proponent of early effective treatment to slow down or stop inflammatory disease activity," he wrote. And that's why, he said, he and his colleagues are working on neuroprotective therapies. "It may turn out that early and aggressive anti-inflammatory treatment is sufficient. Or perhaps we will need both, in other words, early and aggressive anti-inflammatory treatment in combination with neuroprotective therapy."
In any case, he wrote, "Please remember that MS is a preventable dementia. Prevention needs to be stressed. If we treat MS early and aggressively I am confident we will prevent dementia."
Impact of the "dementia" label?
But in any case, won't adding a "dementia" label to the already scary diagnosis of MS have a negative impact on patients as well as people who interact with them?   
That certainly seems to be a concern, judging from a number of comments added to Giovannoni's blog post.
Wrote one commentator, "I don't particularly like to think of MS as dementia due to the fear it evokes. Rebranding it as such could greatly impact all sorts of things, employment being one of them. I fear loss of cognitive function as much as loss of mobility, more possibly. As a young adult, to be told MSers lose brain volume 6x faster than others is sobering stuff."
Stankoff acknowledges that concern. "We have to be prudent about this, as the cog-MS presentation is far from the usual presentation of the disease."
He underscored that the emphasis for managing cognitive decline needs to be on early diagnosis and treatment. "We should consider this form more as an unusual aggressive form of the disease that should be identified and diagnosed early in the disease course to allow for all therapeutic possibilities," he concluded.  
Key open questions
Precisely how common is the cog-MS presentation?
What practical tools can clinicians use to reliably identify patients with cog-MS?
How would therapy for such patients differ from that offered to other MSers? 
How effective would disease-modifying therapies be in combatting cognitive decline in patients with cog-MS?
How would a label of "dementia," tagged onto other symptoms, affect patients and people who interact with them?  
What would be the optimal design for studies focusing on cog-MS?
Disclosures and sources of funding
The authors have disclosed no outside sources of funding for the study.
Dr. Stankoff reports receiving consulting and lecture fees from Biogen Idec, Novartis, Merck Serono, Sanofi-Aventis, Teva-Pharma, and Bayer-Schering, and research support from Biogen Idec, Sanofi Aventis, PHRC (programme hospitalier de recherche clinique, APHP), and ANR. Dr. Assouad received honoraria for serving on the scientific advisory board of Biogen Idec, Teva Pharma, and Novartis. Dr. Louapre has received lecture fees from Novartis and research support from Fondation ARSEP. Dr. Tourbah reports receiving consulting and lecture fees from Sanofi-Aventis-Genzyme, Teva-Pharma, and research support from Biogen Idec, Novartis, Merck Serono, Sanofi Aventis, and ANR, participating in clinical trials for Biogen Idec, Novartis, Merck Serono, Bayer-schering, and Roche. Dr. Papeix reports receiving consulting from Biogen Idec, Novartis, Merck Serono, Sanofi-Aventis, Teva-Pharma, Bayer-schering, and Roche. Dr. Galanaud reports consulting fees from Olea Médical (La Cio-tat, France), Sanofi-Aventis (Paris, France), and Biogen (Cambridge, MA). Dr. Lubetzki reports consulting fees from Roche, Novartis, Sanofi-Aventis and Teva Pharma, lecture fees from Merck-Serono, Biogen-Idec, Sanofi Aventis, and Teva, participating in clinical trials for Biogen Idec, Novartis, Merck Serono, Bayer-schering, Sanofi Aventis, Teva Pharma, Genzyme, and Roche. CL also received research support from ARSEP and ANR. 
Dr. Voskuhl discloses that she is an inventor on a UCLA patent for the use of biologic estriol in MS.
Dr. Giovannoni has received research grant support from Bayer Schering Healthcare, Biogen Idec, GW Pharma, Merck Serono, Merz, Novartis, Teva, and Sanofi; and personal compensation for participating on advisory boards in relation to clinical trial design, trial steering committees, and data and safety monitoring committees from Bayer Schering Healthcare, Biogen Idec, Canbex Therapeutics, Eisai, Elan, Five Prime Therapeutics, Genzyme, Genentech, GlaxoSmithKline, Ironwood Pharma, Merck Serono, Novartis, Pfizer, Roche, Sanofi, Synthon BV, Teva, UCB Pharma, and Vertex Pharmaceuticals. He is a member of the MSDF Scientific Advisory Board.
DOI:
doi/10.7493/msdf.10.14140.1