Cannabinoid Receptor Variant Linked to MS Neurodegeneration
Type-1 cannabinoid receptors may be a useful molecular target for preventing neuronal loss and cognitive problems in multiple sclerosis
Type-1 cannabinoid receptors could be a useful molecular target for preventing neuronal loss and cognitive problems in patients with multiple sclerosis, according to findings from a new study (Rossi et al., 2013).
The study appeared in the December 2013 issue of PLOS ONE and is authored by Diego Centonze, M.D., from the neurology clinic of the department of medicine at University Tor Vergata in Rome, along with colleagues.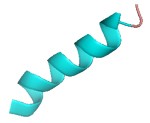 The investigators noted that type-1 cannabinoid receptors (CB1Rs) are abundant in the mammalian brain and play an important role not only in controlling transmission of synaptic impulses but also in sustaining neuronal integrity. 
In addition, other studies have shown that when CB1 cannabinoid receptors are genetically ablated in rodents with experimental autoimmune encephalomyelitis, a model of multiple sclerosis, worsening of neurodegenerative damage is the result.
It is not surprising, then, the authors noted, that treatment with cannabinoids has been postulated as a strategy for mitigating neurodegenerative damage in humans with MS.
"To address the role on CB1Rs in the pathophysiology of human MS, we first investigated the impact of AAT trinucleotide short tandem repeat polymorphism of CNR1 gene on CB1R cell expression, and secondly on the inflammatory neurodegeneration process responsible for irreversible disability in MS patients," the authors wrote.
The investigators studied 114 Italian adults diagnosed with relapsing-remitting MS. All were being treated with various disease-modifying agents.  
The investigators evaluated the patients using several methods, including magnetic resonance imaging studies, serum determinations of AAT repeats in the CNR1 gene, CB1R protein expression, assessment of ophthalmologic function, and grading of neuropsychological and disability status.
"We found that MS patients with long AAT repeats within the CNR1 gene (≥12 in both alleles) had more pronounced neuronal degeneration in response to inflammatory white matter damage both in the optic nerve and in the cortex," the authors reported. 
They noted that after episodes of optic neuritis, patients who carried the long AAT genotype of CNR1 showed more pronounced changes in thickness of the retinal nerve fiber layer, as well as macular volume, when assessed by optical coherence tomography.
Another difference in patients with longer versus shorter ATT repeats: Patients with longer repeats showed MRI evidence of more extensive damage to gray matter in response to inflammatory lesions occurring in white matter. That was especially the case in areas of the brain that handle cognitive function.
The researchers also said that, mirroring those findings, patients with longer ATT repeats scored lower on evaluations of visual acuity and cognitive function.
"Our results provide initial evidence that long (≥12 in both alleles) AAT repeats within the CNR1 gene reduce CB1R expression in MS patients, and exacerbate the impact of inflammation on neuronal integrity and function in the optic nerve and in the brain of MS patients," the authors wrote.
They concluded that their findings demonstrate the biological relevance of the (AAT)n CNR1 repeats in the inflammatory neurodegenerative damage of MS. 
Key open questions
Compared to MS patients with short AAT repeats, why do MS patients with longer repeats appear to be at increased risk of accumulating ophthalmic and cognitive problems?
What long-term effects would cannabinoid treatment have on neurodegenerative damage in patients with MS?
Disclosures
The authors of this study have declared no relevant conflicts of interest. This study was supported by the Fondazione Italiana Sclerosi Multipla and by the Italian National Ministero dell'Università.
DOI:
doi/10.7493/msdf.10.9268.1