Few MS Patients Fail to Receive Disease-Modifying Therapy
A survey of neurologists showed that most patients with MS received DMT; that patient satisfaction and adherence were best with fingolimod; but that insurance coverage for fingolimod was worse than for self-injectable DMTs
According to a survey of neurologists published online April 3 in Patient Preference and Adherence, the vast majority of patients with multiple sclerosis (MS) received disease-modifying therapies (DMT). Compared with self-injectable DMTs, patient satisfaction and adherence were best with fingolimod, but insurance coverage was worse. Novartis, manufacturer of fingolimod, funded this study (Hanson et al., 2014).
"[MS] is a complex disease with many therapeutic options," wrote Kristin A. Hanson, from Value Demonstration, Safety, Epidemiology, Registries, and Risk Management, UBC, an Express Scripts Company in Dorval, QC, Canada, and colleagues. "Little is known about how neurologists select particular [DMTs] for their patients."
The goal of the online survey was to assess neurologists' decisionmaking process concerning DMT prescription for patients with MS and their experiences with and perceptions of individual DMTs. Inclusion criteria for neurologists were membership in a nationwide physician market research panel, currently practicing medicine in the United States, and treating at least 20 patients with MS.
Eligible neurologists received an online study invitation with a link to a survey website from December 2012 to January 2013. To minimize bias, study participants were blinded to the name of the study sponsor.
Of 253 neurologists who were screened, 102 were eligible and completed the survey. Of these, 63 were general neurologists, 39 specialized in MS, and 81.4% were male. Mean number of years in practice since completing medical training was 16.4 ± 8.6 years.
Efficacy, safety most important in drug selection
Individual neurologists estimated that 0.0% to 23.0% of their patients were receiving no MS medication. Overall, only about 5.5% of patients were not treated with any medications for MS. Subcutaneous interferon (IFN) β-1a and glatiramer acetate (GA) were the most commonly prescribed DMTs. In order of importance, the characteristics most affecting selection of specific DMTs were efficacy, safety, tolerability, patient preference, and convenience.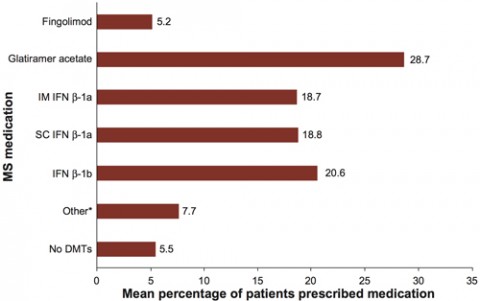 Fingolimod was the DMT with the highest neurologist-reported percentage of patients who were "Very/Extremely Satisfied" with treatment (31.0%), and GA had the second highest percentage (13.9%; P = 0.017). Adherence to treatment by "All/Most" patients, as reported by neurologists, was 94.0% for fingolimod, 92.9% for intramuscular IFN β-1a, 84.0% for subcutaneous IFN β-1a, 78.0% for GA (P < 0.05 vs. fingolimod), and 75.0% for IFN β-1b.
For all self-injectable DMTs, patients' calls to neurologists' offices were most often about adverse effects. In contrast, fingolimod patients' calls were most often about insurance coverage issues.
"Our survey results showed that very few patients with MS did not [receive] any DMT," the study authors wrote. "Among the DMTs available at the time of the survey, neurologists reported that patients were most satisfied with, and adherent to, fingolimod, but these patients also faced more problems with insurance coverage when compared with those taking self-injectable DMTs."
Unanswered questions
As this was a cross-sectional survey, it precluded determination of changes in prescribing behavior over time. Other study limitations included reliance on neurologists' report of patient satisfaction and adherence and insufficient power to detect group differences between general neurologists and MS specialists regarding their prescribing behaviors and their experiences with individual DMTs.
In addition, the authors acknowledged that results of this U.S. survey may not be generalizable to other countries or to physicians who are not members of a marketing panel. Furthermore, unanswered questions included reasons for lack of treatment, variation in medication-prescribing behaviors by MS subtype, and experience with the newest FDA-approved DMTs.
"Neurologists demonstrated clear criteria for initiating, selecting, and switching DMTs, with efficacy (as measured by relapse frequency) being the most important factor," the investigators concluded. "Neurologists believed that their patients were generally satisfied with, and adherent to, their current DMT, and that patients who were prescribed fingolimod had higher levels of treatment satisfaction and adherence than those prescribed self-injectable DMTs. The most common reason why patients called their neurologist about fingolimod involved insurance coverage issues, suggesting that neurologists' clinical decision making may increasingly come into conflict with payer priorities in the treatment of MS."
Key open questions
Why are some patients with MS  not treated with any medications?
How do medication-prescribing behaviors vary by MS subtype and by type of practicing physician?
How would availability of the newest FDA-approved DMTs affect the results of a similar survey?
Disclosures and sources of funding
Novartis Pharmaceuticals Corporation funded this study, employed two of the study authors, and funded a third study author as a research fellow at Novartis while the research was being conducted. Dr. Hanson is an employee of UBC, and another study author is an employee of Evidera, both of which received funding for this research from Novartis. An additional study author reported various financial disclosures involving Novartis, Biogen Idec, Teva, Genzyme, Sanofi, Acordia, Questcor, and Avanir.
DOI:
doi/10.7493/msdf.10.10800.1