Small Internal Jugular Veins Linked to Severe MS
Small internal jugular veins with restricted outflow, but not CCSVI per se, are linked to severe MS
The presence of small internal jugular veins (IJVs) with restricted outflow, but not chronic cerebrospinal venous insufficiency (CCSVI) per se, was linked to severe multiple sclerosis (MS), according to findings of a sonographer-blinded, case-control ultrasound study reported July 17 in BMC Neurology (Krsmanović et al., 2013).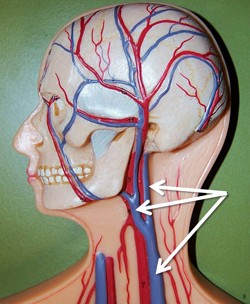 "Recent evidence has indicated an association between [CCSVI] and [MS]," wrote Željko Krsmanović of the Department of Neurology at the Military Medical Academy in Belgrade, Serbia, and colleagues. "Small [IJVs] (with a cross-sectional area [CSA] of less than 0.4 cm2) have been previously described as difficult to catheterize, and their presence may potentially affect cerebrospinal venous drainage."
As recently reported on the MS Discovery Forum, a separate imaging study showed that CCSVI was neither common nor clinically significant among 98 participants with MS.
The goals of the present study were to compare the prevalence of CCSVI and of small IJVs, defined as CSA ≤ 0.4 cm2, in 67 unrelated Serbian participants with MS and in 21 healthy controls. Participants with MS included those with clinically isolated syndrome (CIS), relapsing-remitting (RR), secondary progressive (SP), and primary progressive (PP) MS. All participants underwent high-resolution color-Doppler.
The Expanded Disability Status Scale (EDSS) score allowed quantification of disability, and the Multiple Sclerosis Severity Score (MSSS) allowed quantification of severity.
Small IJVs, Not CCSVI, an Independent Risk Factor
None of the control participants had CCSVI, based on ultrasonographic criteria of Zamboni (2009), compared with 11.9% of participants with MS, but this difference was not statistically significant. Among participants with MS, those with CCSVI had significantly longer disease durations, greater disability, and higher severity.
The prevalence of CCSVI was higher among participants with SPMS and PPMS than in participants with nonprogressive forms. However, CCSVI was not an independent risk factor for MS severity, after adjustment for sex and disease duration.
"The main hypothesis supported by our data and by the results of the largest published studies is that CCSVI does not have a primary causative role in MS but instead plays a contributing role or is a consequence of the disease and long MS duration," the study authors wrote.
The proportions of participants with small IJVs were similar in the group with MS (28.4%) and in the control group (28.6%). Compared to participants with MS and without small IJVs, those with MS and small IJVs had lower cerebral venous outflow, longer disease durations, and significantly higher EDSS and MSSS scores.
Small IJVs were an independent factor associated with MS severity (EDSS ≥ 6; adjusted OR 8.9; 95% CI 1.8-45.6; p = 0.007), based on multivariate logistic regression adjusted for sex and disease duration. More than one-third (36.84%) of participants with MS and small IJVs also had CCSVI.
"Both CCSVI and small IJVs seem to influence or follow MS severity, but only small IJVs turned out to be an independent factor in this study," the study authors wrote. "Thus, small IJVs with restricted outflow, which might be aspects of CCSVI different from the criteria originally described by Zamboni, emerge as a cofactor in the multifactorial pathophysiology of [MS]."
Limitations of this study included those inherent in Doppler ultrasound and the use of standard but unvalidated CCSVI criteria
"The presence of small IJVs is associated with the increased probability of a severe clinical course of the disease," the study authors concluded. "This finding may be important for the future treatment of MS, but it first must be validated and replicated by other studies, especially with severely disabled patients."
Key open questions
Do the subtypes of truncular IJV malformation (IJV stenosis and small IJVs) differ in their association with MS severity?
Is there a causal association between small IJVs and MS severity, and, if so, what are the therapeutic implications of this association?
Image credit
Creative Commons image by Rob Swatski
Disclosures
The study authors reported having no financial disclosures.
DOI:
doi/10.7493/msdf.10.6941.1